Rex Ryan Claims There Is No QB Controversy with Tim Tebow and Mark Sanchez
June 12, 2012

Jeff Zelevansky/Getty Images
I don't trust Rex Ryan any farther than I could throw him.
The New York Jets' obnoxious, brash and outspoken coach has cried wolf far too many teams since taking over as head coach, and his word means absolutely nothing.
Ryan has routinely predicted Super Bowl success for Gang Green and foolishly made other ridiculous predictions as well (He once said he expected Derrick Mason to catch 90 balls with the Jets. The veteran caught 13 passes in five games before being traded).
Not only did his Super Bowl guarantees not come to fruition, but the Jets haven't reached the Super Bowl yet during his tenure.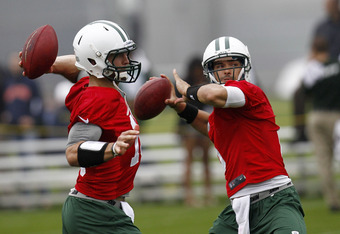 Jeff Zelevansky/Getty Images
This offseason, Ryan has made it a point to be quiet. In fact, he fostered a new motto for the 2012 season, "No Promises." Then the Jets went out and made arguably the most questionable move they could have possibly made: they traded for Tim Tebow.
Ryan made a few radio appearances Monday and, naturally, downplayed any QB controversy by talking up Sanchez. He told WFAN (via ESPN New York), "Mark looks tremendous ... the best he's looked. There's no quarterback controversy here. Mark is our starting quarterback."
Blah, blah, blah...it's June.
As in, it's still the offseason; as in, Mark Sanchez hasn't lost a game for the Jets yet; as in, the Tebow chants haven't started in earnest...yet.
This is June we're talking about, not September.
Following a year in which fans clamored for starter Mark Sanchez's head, the Jets, for some inexplicable reason, found it prudent to bring in the lightning rod known as TebowMania to an already dysfunctional locker room.
Since No. 15's arrival, the only questions this organization has faced have had to do with Tebow's role, Sanchez's leash and, ultimately, whether or not Tebow will get a chance to start over Sanchez.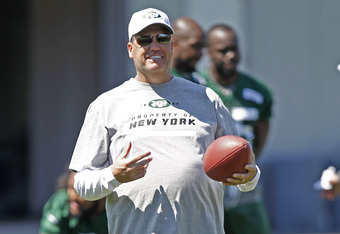 Jeff Zelevansky/Getty Images
The Jets have made it painfully clear (and by painfully I mean Sanchez doesn't deserve to go untested) that Sanchez is the No. 1 guy and that Tebow is the backup quarterback who will also be used in a utility player role in the Wildcat package and on special teams.
Tebow has yet earn the starting quarterback spot in the month of June, July, August or even September since he's entered the NFL. And yet, still, he's wound up the starter by season's end in each of the past two years.
There is no denying that the Jets are indebted to Sanchez—they extended his contract with upwards of $20 million in guarantees this offseason—but they can't hide from the truth forever.
The Jets have never truly had a potential starter backing up Sanchez (which could be part of his problem) but not only do they have one now, but they have one in the most polarizing figure in all the NFL.
No matter what month it is I don't trust Ryan. Seeing as it is June, I trust him even less.
For now, the Jets' starting quarterback is Sanchez, but we must remember, "no promises."
This is a quarterback controversy just waiting to explode, and Gang Green will have nobody to blame but themselves when it erupts.