Big Ten Football: Minnesota Season Preview 2012
June 13, 2012

Mark A. Cunningham/Getty Images
With the calendar moving into June and summer, it is time to jump into Big Ten season previews.
Every week, I will preview one of the teams vying for a chance to play in the second Big Ten Championship Game in Indianapolis this December. A summary of these and other preview articles already done and coming up soon are available at the end of this article.
Overview
Year two of the rebuilding project under Jerry Kill has arrived, and this should be a year with some signs of progress after a tough 2011.
On the bright side, TCF Bank Stadium is the newest gem of a stadium in the Big Ten. The home of the Gophers also holds the distinction of being the only venue in the conference that serves beer in the stadium, starting this season.
That could be a useful commodity, considering the long road the Gophers continue to face after going 3-9 in the first season following the failed Tim Brewster era.
The Golden Gophers also have brought in a handful of junior college athletes to hold the fort with 12 returning starters, as Kill trains his second class of recruits how he wants to play football.
Unlike last season, there is hope for bowl eligibility this year in Minneapolis. However, the struggles in non-conference play against FCS opposition and other weak foes must end now because it will be difficult to win more than three games in Big Ten play.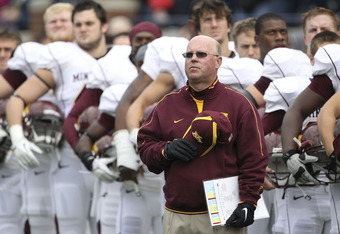 Leon Halip/Getty Images
Who will star in the rebuilding project? Who is at risk of falling prey to the Gophers like Iowa and Illinois did last season? Let's take a look.
Offense
The quarterback of the future, Max Shortell, saw more playing time than expected as a freshman, but that may change assuming senior QB MarQueis Gray can stay healthy in 2012.
Gray threw for 1,495 yards and ran for 966 more, and he will continue to make Big Ten defensive linemen look silly when they overpursue or blitz. When Shortell saw playing time, he completed 48 percent of his passes for just more than 300 yards.
The hope for Kill and his offense will be to reestablish what made Minnesota a contender in the conference under Glen Mason: the running game. Not counting Gray, the Minnesota running backs have failed to individually gain more than 700 yards in a season for the past five years.
Thus, even with starting RB Duane Bennett gone to graduation, look for these rushing numbers to improve. Junior college transfer James Gillum rushed for more than 2,300 yards in two seasons before coming to Minnesota, and he will likely start over last year's primary backup, Donnell Kirkwood.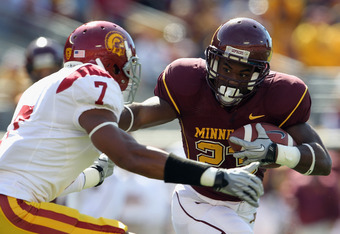 Jamie Squire/Getty Images
Regardless of whether the ball is in the hands of Gray or Gillum, the Gophers will fail miserably unless the offensive line works together and continues to improve. In 2011 many freshman and sophomores rotated in thanks to injuries and poor play, and the unit produced a respectable 160 rushing yards per game.
That rushing number will need to improve to more than 200 yards per game if the Gophers want to keep Gray healthy and steal a few games in Big Ten play. Three sophomores with multiple games of experience will anchor the line: Zac Epping, Tommy Olson and Jimmy Gjere.
Look for modest steps forward this season, as the unit is young as a whole with the exception of seniors Gray and WR Brandon Green (190 yards receiving a season ago). Expect about 22-24 points per game, an improvement from the 18 per game in 2011.
Defense
Like the offense, the Gophers defense also brings back six starters from a unit that saw a lot of freshmen and sophomores earn playing time in 2011. The defense had improved under Tim Brewster but took a step back to giving up more than 400 yards per game last year.
The biggest weakness last year was the secondary, which included three new starters after Troy Stoudermire went down to a season-ending injury before Big Ten play. Two more new starters will need to plug in this season, but Martez Shabazz is likely to fill the empty cornerback slot as a junior college transfer.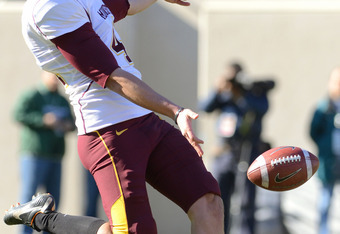 Mark A. Cunningham/Getty Images
Stoudermire was a wide receiver before moving to defense last season, so perhaps he will teach the unit how to come up with some more interceptions following a woeful four-interception season. By burning a couple of quarterbacks early in the season, the opportunity to blitz strategically may come back into the Gophers' defensive game plan.
The strength of this year's defense should be the linebackers, led by seniors Mike Rallis and Keanon Cooper. Rallis and Cooper combined for 160 tackles in 2011 and could top 200 this year if opposing running backs continue to break through the first line of defense.
Speaking of that line, the middle of the line will be a big question mark with two new starters coming in. It will be difficult to do much worse than the 2011 defensive line, although it will help if the secondary plays better so that the line can take more risks.
Minnesota would be served well if the defense can bring the total points per game against down to 28 or fewer. That very well might happen with expected improvements from returning players.
Special teams
Although Minnesota had solid special teams most years under Tim Brewster, Jerry Kill and his staff brought the Gophers to a new level in 2011. The Gophers return kicker Jordan Wettstein, punter Dan Orseske and the top kick and punt returners from a season ago, so the numbers may improve further.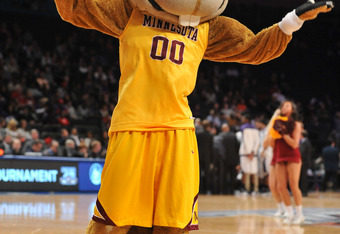 Jason Szenes/Getty Images
Wettstein also successfully converted the onside kick that led to the upset of Iowa last year, so teams will need to prepare for that possibility. Orseske achieved a respectable net punting average of more than 34 yards, which could improve further in 2012.
Especially with continued good returns from Marcus Jones, Minnesota should gain some field position with the special teams. Converting on that field-position advantage will be the key that makes or breaks the run for bowl eligibility.
Schedule analysis
The Gophers schedule for 2012 looks like this, with predictions on wins and losses in parentheses:
8/30—at UNLV (win)
9/8—New Hampshire (win)
9/15—Western Michigan (loss)
9/22—Syracuse (win)
9/29—at Iowa (loss)
10/13—Northwestern (win)
10/20—at Wisconsin (loss)
10/27—Purdue (loss)
11/3—Michigan (loss)
11/10—at Illinois (loss)
11/17—at Nebraska (loss)
11/24—Michigan State (loss)
Projected record: 4-8, 1-7 Big Ten
Season prediction
In order to achieve bowl eligibility, the Gophers will be best served by sweeping the non-conference schedule. The first two games should be wins, but the home games against WMU and Syracuse will not be freebies.
Then the key will be stealing some wins at home, preferably early as Michigan and Michigan State will be tough to beat this year. If Minnesota starts 4-0, then the games against Northwestern and Purdue will be the games to watch.
For a road game upset flier, look for the Illinois game to be competitive. After dominating the Illini last season, the Gophers should be confident heading into Champaign in 2012. If Minnesota can improve by two or more games from the 3-9 finish in 2011, hopes will begin to soar in the critical third season of the Jerry Kill rebuilding project.
---------------------
Thanks for reading! If you have any comments or questions about this or other articles in the 2012 Big Ten football preview series, please contact David on Twitter.
Big Ten Season Preview 2012 Summary
Team Previews: Minnesota preview, Indiana preview, Northwestern preview, Illinois preview; Iowa preview; Penn State preview; Michigan State preview; Purdue preview; Nebraska preview; Ohio State preview; Michigan preview; Wisconsin preview
B1G Scouting Reports: Sun Belt/WAC report
Top 10 Position Rankings: top 10 offensive linemen; top 10 linebackers
That's it for the preview...thanks for reading and now the season is here!