Jesus Montero Appears to Be Catching on with Seattle Mariners
June 12, 2012

Otto Greule Jr/Getty Images
This might qualify as kicking someone when he is down, but did Yankee fans notice who was catching for Seattle when six Mariners pitchers combined to no-hit the Los Angeles Dodgers?
It was Jesus Montero, the player the Mariners acquired from the New York Yankees for pitching phenom Michael Pineda. It's the same Montero who was penciled in as a designated hitter for the Yankees this season because the brain trust concluded that he couldn't catch and had no other position.
It was one of the reasons why general manager Brian Cashman traded the best young hitter in the organization for a pitcher who was penciled in as No. 2 behind CC Sabathia and seen as the Yankees' future ace.
Then everything unraveled for Pineda and the Yankees during spring training. Warning bells were sounded when he reported 10 pounds overweight and was having trouble throwing over 90 miles per hour in his spring appearances.
Pineda, as we all know, was put on the disabled list and underwent shoulder surgery, which is always more dicey than Tommy John surgery.  
Cashman told ESPN New York that the trade is "a massive decision gone wrong right now." He is hoping that in a year or two Pineda will show the potential that prompted the Yankees to trade for him in the first place.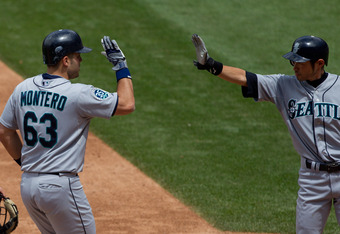 Justin Edmonds/Getty Images
This, however, is not about whether Pineda was damaged goods who hid his injury from even the Mariners, but a referendum on some of the decisions being made by the Yankees front office.
Why did they decide that Montero has no future as a catcher? Couldn't they envision him behind the plate for 110-120 games a year and being the DH in another 30 or 40 games so that they could take advantage of his bat and give him a break from the drain of catching?
No one is suggesting that Montero is going to be a great defensive catcher. Adequate, however, would be good enough to keep his bat in the lineup.
It isn't easy for a rookie catcher or 20-year lifer to catch a no-hitter, much less a no-hitter by committee the way Montero did in his rookie season. When Kevin Millwood left with a injury, he had to guide five relievers, including a demoted closer and a new closer in Tom Wilhelmsen, who tended bar for five years before resuming his career. 
We know Montero is no Johnny Bench or Thurman Munson defensively. He has started 24 games behind the plate so the idea that he is only a DH doesn't appear valid. He has thrown out three of 16 runners stealing and had four passed balls, not great numbers—but remember that no-hitter.
He isn't hitting like he did for the Yankees at the end of last season, either. Montero began this week batting .258 with seven home runs and 27 RBI. Remember, though, he is playing in a pitching-friendly park, not Yankee Stadium, and he doesn't have the protection around him in the lineup as he did in New York.
He is only 22, however, and an everyday player with big upside. The Yankees will tell you about how deep they are in young catchers in the farm system but a lot of fruit dies on the vine in the minors. Prospects and potential don't always succeed in the majors.
Maybe this year's draft will signal a change for the Yankees. Maybe they will begin grooming young players for a career in pinstripes instead of being used as chips for trades.  
It would be a welcomed change in the Bronx.