Jeremy Lin: Turnover Problems Are Overblown for New York Knicks Free Agent
June 11, 2012

Chris Chambers/Getty Images
Jeremy Lin took the NBA by storm during the short time between his promotion into the starting lineup for the New York Knicks and his devastating knee injury. 
The hype flew around the Harvard product like no other, while he was wheeling and dealing as the floor general, with anyone and everyone chipping in about whether or not he was legitimately this good. Was he a product of the Mike D'Antoni system? Could he sustain the success? How in the world did he turn the ball over too much? 
"Linsanity" isn't currently gripping the nation, but it may churn back up once the free-agency period starts and teams are vying for the right to pry Lin away from the Knicks now that he's a restricted free agent. 
The primary knock on Lin is that he turns the ball over far too often to be an elite point guard. Given the fact that I ranked Lin 59th among all active NBA players near the end of April, while he was sidelined by the knee, I don't think it's too big of a deal. 
In fact, here's how I rank the top-15 point guards in the top 100:
1. Chris Paul
2. Derrick Rose
3. Russell Westbrook
4. Deron Williams
5. Rajon Rondo
6. Tony Parker
7. Steve Nash
8. Kyrie Irving
9. Stephen Curry
10. Kyle Lowry
11. Brandon Jennings
12. Ty Lawson (I'd move him up after the playoffs)
13. Jeremy Lin
14. John Wall
15. Ricky Rubio 
I stand by ranking Lin ahead of Wall, largely due to the fact that Lin's turnover problems are highly overblown thanks to a failure to look at any of the advanced stats and metrics.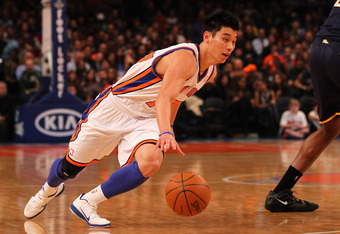 Al Bello/Getty Images
Sure, Lin's 3.6 turnovers per game are a bit unseemly and would leave him tied for fifth in the NBA, behind just Deron Williams, John Wall, Kevin Durant and Steve Nash, had he played enough games to be eligible. However, once you dive a little bit deeper, it's much more excusable. 
The primary reason for Lin's turnover-prone nature wasn't just his play. It was a combination of both the fact that he tended to drive into the trees of the paint and get trapped, as well as the ridiculous amount of time that he spent with the ball in his hand. 
Lin's usage rate for the 2011-12 season was a sky-high 28.1 percent, and the nine games he appeared in without playing a particularly large role drives that number down considerably. When you have control of the ball that often, you're also going to lose control of the ball more often. 
For this reason, it's better to look at turnover percentage, a stat that measures the percentage of possessions used by a player that result in turnovers.
Lin's turnover percentage for the regular season was 21.4, a mark that is still too high, but in no way completely detrimental to his future prospects in the league.
Let's take a look back at the 15 point guards I ranked earlier and see the turnover percentages.
1. Chris Paul (10.8 turnover percentage)
2. Derrick Rose (12.9)
3. Russell Westbrook (14.2)
4. Deron Williams (16.7)
5. Rajon Rondo (22.8)
6. Tony Parker (13.1)
7. Steve Nash (27.1)
8. Kyrie Irving (16.1)
9. Stephen Curry (17.0)
10. Kyle Lowry (17.8)
11. Brandon Jennings (10.6)
12. Ty Lawson (14.7)
13. Jeremy Lin (21.4)
14. John Wall (19.2)
15. Ricky Rubio (22.2)
Lin is very much still on the high end of the spectrum, but he actually fares better than Steve Nash, Ricky Rubio and Rajon Rondo. Remember, too, that we're only looking at elite point guards here and not backups or non-elite starters. 
Turnovers are still a problem for Lin, and he'll have to cut down on them in order to validate the inevitable large sum of money he'll receive as a result of free agency, but the turnovers are overblown. They shouldn't dominate the discussion about a very good, young point guard.