Tottenham Hotspur: Why England Was Right to Stay Away from Harry Redknapp
June 13, 2012

Michael Regan/Getty Images
After playing to a 1-1 draw in their opener against France in Euro 2012, Roy Hodgson's English squad appear to be headed in the right direction.
As many remember, Hodgson was not the consensus selection when Fabio Capello quit as England's manager back in February. Tottenham Hotspur boss Harry Redknapp was always thought to be the logical first choice, but he never ended up taking the reins.
According to an article from The Sport Review, Redknapp claimed he was never offered the position, and in fact, he is content with where he currently stands.
"I was never approached, I wasn't that disappointed," Redknapp told BBC Sport. 
Redknapp can claim that his commitment to Tottenham supersedes all else, but it's clear that the Spurs boss had some other managerial responsibilities on his mind once Capello stepped down. In the end, Redknapp's selfishness cost Tottenham dearly.
Amid speculation that Redknapp would succeed Capello as England's next manager, Spurs fell out of third place despite making a late-season resurgence, and failed to qualify for the UEFA Champions League, due in part to Chelsea's thrilling Champions League victory over Bayern Munich.
Given the team's strong start, fans and pundits alike would tell you that finishing fourth was disappointing. The inability to show true loyalty may not have been the precise reason why England chose Hodgson, but it couldn't have helped Redknapp's cause.
Now, with Redknapp left a mere spectator for England's Euro 2012 run, speculation is running rampant that he could be on his way out at White Hart Lane.
According to Daily Mail, Redknapp and Spurs management are having difficulty agreeing to terms on a new contract, which could ultimately lead to the Tottenham boss bowing out this summer.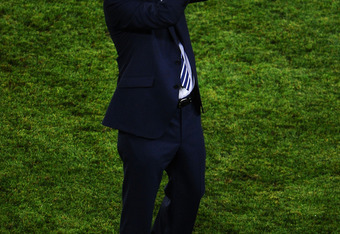 Lars Baron/Getty Images
With tempered expectations for this year's European Championships, Roy Hodgson appears the right man to lead this English squad.
Hodgson's success leading Switzerland to the knockout round of the 1994 World Cup is certainly an accolade that Redknapp does not possess, and his international experience could pay dividends for England in the coming weeks.
In addition, Redknapp had previously been involved in a corruption scandal, and despite being acquitted, his shady dealings in the past could not have helped his case with the Football Association.
Although they won't get it done with flash and elegance, Hodgson has this team in the right place psychologically, having built a tough, resilient bunch.
In England's Euro 2012 opener against France, Hodgson's squad didn't look particularly sharp on the offensive end, but they were organized throughout, especially on defense, where many speculated they would be weak without Rio Ferdinand and Gary Cahill.
Playing a style many would compare to that of English Premier League side Chelsea, England sought to pack it in on defense early and often against France, allowing for fewer prime goal-scoring opportunities. Offensively, England may struggle to score at a high clip, leaving them to rely on  set-pieces as their primary mode of generating some offense.
Given England's style of play, a key piece moving forward will be goalkeeper Joe Hart who was in top form on Monday. Hodgson's squad will more than likely be involved in some messy games, and to emerge from the group stage they will need Hart to preserve some slim leads.
While it may not have been pretty, England have given themselves room to grow under Hodgson. For a team with fairly low expectations heading into Euro 2012, Hodgson's side could emerge as one of the tournament's pleasant surprises.
Generating a tie against what many consider to be Group D's elite team is a step in the right direction, and England can look forward to continued success against Swedish and Ukrainian squads that cannot match their pure levels of talent or experience.