Why 2012 Is a Make or Break Year for the Detroit Lions
June 11, 2012
Ronald Martinez/Getty Images
The 2011 Detroit Lions saw a few things: their first winning season since 1995, their first playoff appearance in more than a decade, more than 5,000 passing yards for quarterback Matthew Stafford and a career year for wide receiver Calvin Johnson, one that essentially propelled the Lions into the national spotlight for the first time in a long time.
But you already knew all of this.
What you might not know, is that because of this, and because the Lions have progressed every year since their dreadful 0-16 season, they have to prove that they aren't just a pretty good team with some valuable weapons. They have to prove that they are here to stay, that they plan on being playoff and Super Bowl contenders for the foreseeable future.
That means 2012 isn't just another year...it's a make or break year for this team—this franchise.
But here's the catch. A successful season—at least in my book—isn't just about records and awards. Obviously, we don't want to see the Lions regress from last season. But beyond the numbers, the wins, the accolades, there's plenty this team can improve on that will only solidify its success as an NFL powerhouse for years to come.
We know the Lions can win 11 or 12 games this season, but if they don't, does it really mean the team's season wasn't a success? I don't think so.
Regardless, Detroit needs to vastly improve in key areas. If they do that, and still come out with a nine- or 10-win season, I still think it's still a step forward.
Balance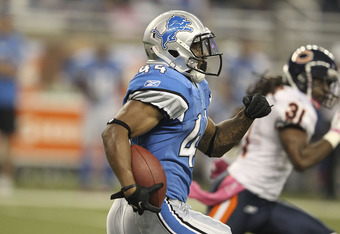 Leon Halip/Getty Images
Given the season Stafford and Johnson had last year, there's certainly concern that regression is possible. But it's important to remember that a successful team is a balanced one. Last year, although Stafford and Johnson at times looked superhuman, they carried the load of that offense almost alone.
And while it was fun to watch, it was also at times maddening. Few teams can win a division or a Super Bowl with a lopsided offense. And the Lions are no exception.
While it's true that the past two Super Bowl winners have been heavy passing teams, it's also true that they had more than one receiving weapon. I'm not saying Brandon Pettigrew, Nate Burleson and Titus Young didn't make significant contributions to this team. But if you look at the New York Giants, their top two receivers (Victor Cruz and Hakeem Nicks, via teamrankings.com) had 1,805 and 1,636 yards, respectively.
Beyond Johnson's 1,892 yards last season, the next Lion in terms of receiving yards was tight end Pettigrew with 826.
The Lions not only need a run game that contributes, but they need more out of their receivers not named Calvin Johnson.
The secondary
Despite a few veterans in the clubhouse, the Lions are a mostly young team—especially when it comes to their secondary, which took a lot of the blame for this team's woes. And let's not forget injuries, which were attributed to many of the Lions struggles late in the season.
Aaron Berry, who garnered most of the blame for the secondary's poor performance, has just two years' experience in the NFL, and just one year if you take into consideration that he saw playing time in just one game his rookie season.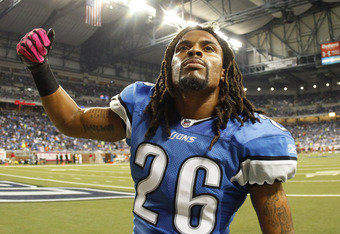 Leon Halip/Getty Images
Similarly, Amari Spievey is entering just his third season in the league and though he's been relatively consistent for the Lions thus far, I would expect him to make strides in 2012—so long as his lingering concussion doesn't affect him long term.
Louis Delmas will be entering his fourth year in the league and despite a decline in numbers last season (due mostly to injury), he is one of the leaders on the defense. If he can avoid injuries, there's little doubt that he will continue to be a difference maker.
Discipline
The Lions ranked 31st in penalty yards, averaging 67 per game last year—many in crucial moments (via teamrankings.com).
While this isn't exactly a new trend for the Lions, it's one that needs to be addressed and fixed if they expect to be one of the elite teams in the NFL. You can blame it on maturation and you can blame it on lack of focus. Either way, it doesn't matter. The Lions have to figure how to limit their penalties and costly mistakes, because they proved to be damaging in too many games last season.
So how does all this make or break a team? Easy. It means the talent is there. It means all those people who claim that 2011 was a fluke are probably full of hot air. It means the Lions won despite their shortcomings in the secondary, despite injuries across the board, despite a struggling run defense and despite a largely one-sided offensive strategy.
But those are also all the reasons why 2012 is the most important season the Lions will play in more than a decade. If at least one or two of those things sees improvement, the Lions should be able to win at least 10, if not more, games this season.
If not, many will believe that 2011 was their ceiling; that that was as good as it's going to get. If that were to happen, there's a good chance Detroit would fall back into the NFL's subconscious.
And for a team that's worked so hard to become relevant again, that's the last place they want to be.