Firestone 550: IndyCar's Changes Work Wonders at Texas Motor Speedway
June 10, 2012

Robert Laberge/Getty Images
Rumor has it that the Firestone 550 may have been the final IZOD IndyCar Series race at Texas Motor Speedway (via Washington Times).
If so, then the series is losing a track that has provided great entertainment in the past and most certainly repeated that performance Saturday night.
Justin Wilson, a two time IndyCar winner who had previously never won a race on an oval, passed Graham Rahal with two laps remaining to score the victory on a humid night in Texas.
Rahal pulled out to nearly a two-second lead before hitting the Turn 4 wall at Lap 226 of 228. The car wouldn't stick in the next turn, allowing Wilson to catch up. Wilson passed him easily and held on to score the victory.
No, this year's Texas race didn't produce another classic side-by-side finish. In fact, the racing for the majority of the evening was relatively spread out. Only six cars finished on the lead lap. Drivers weren't stuck together in single-file packs as in past races at the 1.5 mile quad oval near Fort Worth.
The racing was actually rather NASCAR-esque. And that's not necessarily a bad thing.
The new car and aero package IndyCar brought to TMS reduced the downforce on the cars, making them more difficult to handle. This placed the race back in drivers' hands.
"I thought [the racing] was a lot of fun," Wilson said via NBC in victory lane. "The cars weren't stuck. But you had to manage the tires and the grip. I had a blast out there."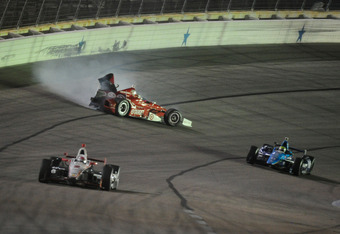 Robert Laberge/Getty Images
It's easy for a driver who won in such thrilling fashion to be happy with the way the cars raced. It's another thing to hear similar praise from someone whose night ended with a poor finish.
Scott Dixon, who led 133 laps before losing handle of his car and crashing on Lap 173, was also a fan of the new package IndyCar had brought to the large oval.
"You really have to drive the car," Dixon said via NBC from the infield after his accident. "It's really tough to wheel the car around here.

"For maybe the first five or ten laps when you're out front and in clean air the tires are pretty good. They hang on really well. And then you really have to start driving it. You have to start moving the weight. You have to start using your roll bars.

"So, I think its a good way of racing. Obviously we didn't have a good result tonight, but I think its a much better way to race."
That's a nice change from the trepidation that drivers have felt about large NASCAR-style ovals, a feeling which was recently magnified by the tragic death of Dan Wheldon at Las Vegas Motor Speedway.
Pack racing was non-existent, and drivers felt they had complete control of the cars. On top of that, fans were enthralled by the race's twists and turns, which included both DIxon's and Rahal's accidents and a blocking penalty issued on Lap 195 to then-leader Will Power.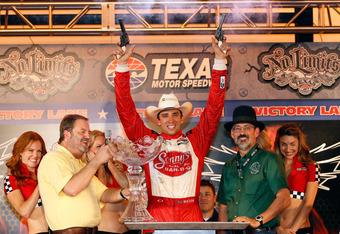 Chris Graythen/Getty Images
A few days ago, it was understandable why IndyCar was thinking twice about continuing to race at Texas Motor Speedway beyond a 16th year.
Now, with the combination of driver comfort and fan praise, it's hard to imagine the series would want to avoid the oval in the near future.
But that ball is in IndyCar's court. It's up to series brass—as well as drivers, teams and owners—to decide whether or not to race at Texas Motor Speedway in the upcoming years.
If the 2012 Firestone 550 was any indication of what's to come at the race track, then choosing to abandon it would be a massive mistake.