Belmont Stakes Picks: Bold Predictions on Final Triple Crown Race
June 9, 2012

I'll Have Another was retired Friday, but he wasn't retired to the "Great Horse Farm in the Sky." In fact, he was on display at a 1 p.m. ET press conference at Saturday's Belmont Stakes while his racing peers prepared to take the crown that could have been his.  
With the loss of horse racing's Triple Crown favorite, it doesn't seem right predicting what horse will take advantage of a golden opportunity. But we'll get bold with the Belmont and open things up for debate. In the meantime, fans will scurry to watch the race as I'll Have Another rests his weary leg.
Unstoppable U
"U" want a long shot, I'll give "u" a long shot with Unstoppable U. Union Rags and Street Life are looking like safe choices right now, but if you want to go out on a limb, go for a horse that has never lost a race. Unstoppable U has participated just twice in his young career, but he was as fast as lightning both times and won going away.
He also has the advantage of having won recently at Belmont on April 27, in an optional claiming race at Belmont.
"He's trained here his whole career, and that's a big edge," trainer Ken McPeek said. "You have to train over this track to win over this track. It's nicknamed 'Big Sandy' for a reason, and if we don't get any rain between now and Saturday, I think it's going to give an edge to horses who have been here."
He enters the race at 13/2 and perhaps his speed will strike gold in the Belmont. His jockey is Junior Alvarado, who will try to be patient with a horse that is only used to a maximum of a mile.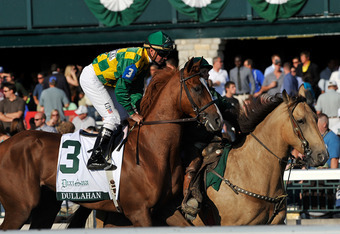 Paynter
If you are a horse and Bob Baffert owns you, you have a heck of a chance to win, show or place. According to the Greg Telias of the Sporting News, Paynter was more "highly regarded in his early days than stablemate Bodemeister." Bodemeister should be labeled horse racing's 'bridesmaid', after finishing second to I'll Have Another at the Kentucky Derby and the Preakness.  
Bodemeister jockey Mike Smith is still seething about his horse's loss in the Preakness. "I swear I don't know how he ran me down, man," said a dumbfounded Smith after the race. 
Paynter is fast and should be able to keep up with his opponents through the early stretches. But according to Bleacher Report's own Ian Hanford, Paynter "has not won a major race of this caliber, and has never run this distance before."
Baffert can handle being a runner-up once. When it happens twice, he gets ornery. Let's hope for Paynter's sake, the third time's the charm.  
Dullahan
It's an election year, so you know a politician or two will have their say when it comes wagering on a horse. With I'll Have Another on the sidelines, the new betting favorite at the Belmont is Dullahan, who came in third at the Derby. And why is that? Because Bill Clinton said so.
The former President and Leader of the Free World chimed in last week in an interview with an announcer for Meadowlands Racetrack in East Rutherford, N.J. The chat, of course, took place before the retirement of I'll Have Another, but Clinton did not hesitate to talk up Dullahan, calling him "the real wild card."
Union Rags
According to NJ.com, Union Rags has been "touted as the best of this year's 3-year-old crop until he got trapped as the 2-5 favorite in the Florida Derby," He then came up lame in the Kentucky Derby after getting caught among a bunch of horses. But he has the pedigree to finish 1½ miles and has proven that he can run away from his competition.
After his seventh-place finish in the Derby, Union Rags did not run in the Preakness, but he is a good horse to wager on because before the Derby, he never finished worse than third.
Here are the latest odds for the top three finishers and for winning the race outright (courtesy BelmontStakes.org).
Odds to Finish Top 3:
Atigun 15/2
Dullahan 4/7
Five Sixteen 15/1
Guyana Star Dweej 18/1
I'll Have Another (Suspended) 
Optimizer 19/4
Paynter 13/10
Street Life 12/5
Union Rags 2/3
Unstoppable U 13/2
Ravelo's Boy 12/1
My Adonis 13/2
Odds to Win the Belmont:
Alpha (Suspended) 
Atigun 24/1
Dullahan 19/10
Five Sixteen 50/1
Guyana Star Dweej 60/1
I'll Have Another (Suspended) 
Optimizer 16/1
Paynter 17/4
Rousing Sermon (Suspended)
Stealcase (Suspended)
Street Life 8/1
Union Rags 11/5
Unstoppable U 21/1
Ravelo's Boy 40/1
My Adonis 21/1