Boston Red Sox: Clay Buchholz's Turnaround Makes Sox Contenders
June 9, 2012

Winslow Townson/Getty Images
After being shellacked in his May 21 start at Baltimore, Clay Buchholz looked like a pitcher better suited for the International League than the American League.
Now, after a string of excellent performances, he looks much more like the pitcher who was an All-Star and finished sixth in AL Cy Young voting in 2010. His improvement has also launched the Sox right back into contention.
The right-hander has been on an excellent run of late, rattling off consecutive impressive starts against the Rays, Blue Jays and Orioles, three of the better offensive teams in the American League.
Buchholz has allowed just four earned runs in his last 24.0 innings (an ERA of 1.50), lowering his overall ERA from 7.84 to 5.77. After struggling with his control all season, he has walked just four while striking out 19 over the same period.
Buchholz's reversal of fortune has come at a pivotal moment for the Sox. With the demotion of Daniel Bard and the inconsistency of Jon Lester, the Sox desperately needed Buchholz to rediscover his form and provide stability for the rotation.
If his recent performance is any indication, he has done just that.
Despite their improved play, the Sox still rank 27th in MLB in ERA (4.47), 28th in runs allowed (278) and 24th in WHIP (1.37). Buchholz has been a huge contributor to these poor numbers, as he ranked last or near last among qualifiers in several categories before his recent hot streak.
There's no question that Buchholz is a good pitcher, certainly a better one than his early performance indicated. However, his career has been a bit confusing; is he the pitcher of 2010 who stayed healthy and dominated the competition, or is he the erratic, enigmatic pitcher of 2008 and 2009?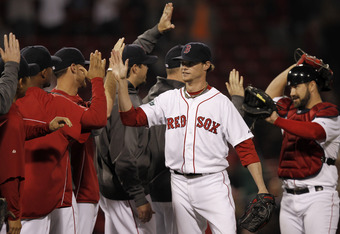 Winslow Townson/Getty Images
Buchholz will turn 28 in August, so his "development" has effectively ended. The time has come for him to show what kind of pitcher he is.
This latest run of success is a great sign for the Sox and their fans. For a pitcher, especially, the recovery from back problems can be a painfully difficult and slow process. It's fair to wonder if Buchholz's early season struggles primarily stemmed from his ongoing recuperation from last year's season-ending back injury, rather than some sort of deep-seated mechanical flaw.
Now that Buchholz is about a year removed from his injury, he's begun to resemble the pitcher fans remember. He got off to a strong start in 2011 before his injury, so his track record of strong performances does not come solely from one season.
The transformation of the Sox rotation from a weakness to a strength really begins with Buchholz. Josh Beckett and Felix Doubront have been steady performers all season, and though he's struggled at times Lester's effort has been at least passable.
Buchholz, though, has been the wild card. Although his record currently stands at 6-2, those numbers belie the absolutely brutal performances he put forth early in the season. He allowed five or more earned runs in each of his first six starts and seven of his first nine.
His turnaround, then, can swing the balance of power in the tightly-contested division race.
With every team at .500 or better and just four games separating the first and last place teams, every hot or cold streak is going to matter in the 2012 AL East. Buchholz' ability to shut down opposing offenses, especially those within the division, will make a huge impact on the Sox's chances.
Even an average performance from Buchholz the rest of the way will give the Sox an extra couple wins, and in a race this tight that will likely make all the difference.