Wojciech Szczesny: Is It Time to Start Worrying About Arsenal's Goalkeeper?
June 8, 2012

Alex Grimm/Getty Images
It could be time to start worrying about young Gunners goalkeeper Wojciech Szczesny. The Polish stopper just endured a horror show in his nation's opening Euro 2012 fixture against Greece.
Szczesny directly contributed to the Greeks' equaliser in a 1-1 draw and also handed them the chance to claim the win by giving away a penalty, following a rash challenge. That challenge earned Szczesny a red card and completed a nightmare performance that is sure to have many questioning his credentials to be a top goalkeeper.
That's bad news for Arsenal given their recent history of calamity 'keepers. After painful years of Manuel Almunia and Lukasz Fabianski costing Arsenal points with high-profile blunders, Szczesny seemed like manna from heaven when he stepped into the team for a December 2010 fixture at Old Trafford.
The then 20-year-old was magnificent against Manchester United. Although he was beaten by a looping Ji-Sung Park header, Szczesny made a series of impressive saves.
In one night the Polish starlet appeared to have restored a measure of confidence in Arsenal's goalkeeping position. As a shot stopper Szczesny excelled straight away and being able to trust him in one on one situations felt like a reward for all the nerve-jangling moments watching Almunia or Fabianski facing up to an onrushing attacker.
Yet slowly, almost too in-frequently to really cause concern, errors crept into Szczesny's game. The confusion which led to Birmingham City's winner in the 2011 Carling Cup final and the soft shot that spilled through his hands at home to Norwich City this season, show Szczesny is prone to blunders.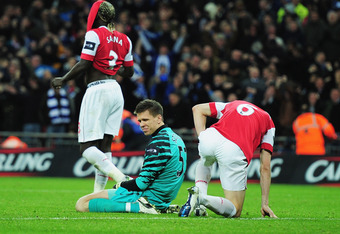 Shaun Botterill/Getty Images
However, more troubling than calamitous misfortune, is the poor judgement and rash decision making those kind of mistakes often reveal. Szczesny is too often guilty of losing composure when faced with a tricky cross and has struggled to accurately judge shots from distance.
Most concerning of all is Szczesny's cocky attitude and all-too casual demeanour. It's part of the dark underbelly of Arsene Wenger's insistence on youth, that putting teenage and twenty-something players into such prominent positions at a big club, can inflate the ego.
Szczesny certainly appears guilty of thinking he has "arrived" and therefore doesn't need to work hard to refine his craft. That is why Arsenal should look for genuine competition, rather than simply depth behind Szczesny. 
Yet even with all of these points against him, it can be argued that Szczesny's mistakes are simply the trials faced by young goalkeepers. After all he is still only 22 and goalkeepers of a similar age and commanding larger transfer values, such as United's David De Gea, have endured similar struggles.
So at the moment it may still be safe to trust Szczesny with the job. However, Arsene Wenger would be wise to acquire a legitimate challenger and keep a close eye on how Szczesny approaches this season.