Comparing Clayton Kershaw, Sandy Koufax at Same Point of Their Careers
June 8, 2012

Given the first five years of their respective careers, who would you rather have on your team: Clayton Kershaw or Sandy Koufax?
It is a fair question given that both are big, tremendously successful left-handed pitchers.
Kershaw is the current ace of the Los Angeles Dodgers, and Koufax is the Hall of Fame standard for southpaws who many think is the greatest pitcher of them all and played for the Dodgers in the 1950s and 60s.
But, who was better in the initial stages of his career? 
"Trying to hit him was like trying to drink coffee with a fork," said Pittsburgh Pirates slugger Willie Stargell about Koufax.
"I can see how he won twenty-five games. What I don't understand is how he lost five," said that noted philosopher and Yankee catcher Yogi Berra about the Dodgers lefty.
In his day, and perhaps for any day, Koufax mowed them down at the plate during a remarkable pitching career that included three Cy Young Awards, a MVP Award and four no-hitters including a perfect game. 
His numbers are somewhat staggering including 40 shutouts and three years when he won the pitcher's triple crown by leading the National League (as well as the American League) in wins, strikeouts, and ERA and a career ERA of 2.76.
Koufax recorded three seasons with 25, 26 and 27 wins during which he had respective complete games of 20, 27 and 27. Those were the days when the word "closer" meant something that stopped a swinging door from slamming.
Most of Koufax's success came after his first five years in the big leagues. In fact, if you study his early years, you might almost think he was "on" something in the seasons to follow.
In 1955 through 1959, Koufax's ERA was 4.07. To say he struggled in those early years is to greatly understate the facts and if it were not for his blazing fastball, he may have never gotten the chance to strikeout 16 Philadelphia Phillies in one game in 1959, five years after breaking into the league.
He also got to pitch in the World Series in '59 and performed handily although the Dodgers lost.
Meanwhile, Kershaw has been a buzzsaw in his short career which includes last year's Cy Young Award and a career ERA of 2.84. He already has 47 wins. Koufax only had 28 in his first five seasons.
During his award-winning season, Kershaw was 21-5, breaking the vaunted 20-win mark which is rarely done in modern day ball. He also did it on a team that was greatly challenged, finishing third in their division.
Looking at Kershaw and Koufax from a pitching standpoint is almost like looking into a mirror. Both have strong, moving fastballs which they counteract with excellent mind-bending curveballs that they throw at any time in the count. They are also very much alike physically with Kershaw at 6'3", 220 lbs and Koufax at 6'2", 210 lbs.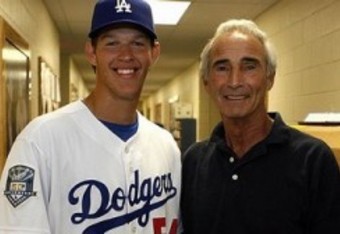 We are not sure if Kershaw can dunk a basketball the way Koufax could. Both men are known for their quiet, workman-like demeanor on and off the mound.
Both men are strikeout machines who can dominate a game.
Kershaw still has a long way to go to match Koufax's amazing career which included 97 wins between 1963 and 1966.
Koufax also pitched in two World Series, winning two games twice and two championships.
Kershaw has yet to face that elevated level of competition and drama.
Yet, when viewed over the first five years, Kershaw has already become the preeminent left-handed pitcher in the game.  At that point in his career, Koufax was teetering on demise.