MLB Pitchers That Are Crushing Baseball Bettors and Why
June 8, 2012

Jeff Gross/Getty Images
As a baseball bettor, you always study the starting pitching matchups. This is the lifeblood that helps you formulate a decision to play on a certain team, play against them or pass all together. We are over two months into the season and you've probably had a fair amount of good fortune and more than your share of bad luck.
Part of the misfortune could be not having the right read on particular pitchers who are underperforming compared to their past history and you can only assume that they will eventually regain their form and be productive again. But what if that doesn't happen? What if these pitchers are having one of those years? In that case, you will absolutely want to lay off these hurlers or start playing against them.
Here is a detailed look at the most despicable pitchers in the Major Leagues that are responsible for costing bettors money. They are listed with current record, team record when they start and units lost for supporters.
Dan Haren 3-6, 3-9, -11.4 units
Albert Pujols was supposed to be the right compliment to an improved Los Angeles Angels offense and those results have been mixed. Even if the Angels offense was a little overrated by prognosticators, the starting pitching figured to be a strength that could carry them through the bumpy parts of the season.
Among those forecasted to help the Halos was Dan Haren, but that has not been the case. Though his 3.52 ERA is acceptable, it is 11 percent higher than a season ago and his WHIP of 1.24 is over 20 percent higher from 2011 and above his career norm.
The Angels' right-hander has suffered an off-and-on balky back and he might be keeping quiet about it and just trying to pitch through it. All season, Haren has been heated up by right-handed batters, who have a .326 average against him. He's also appeared to have a lack of concentration against the bottom of the opposing teams' batting order, with hitters 7 to 9 hitting a robust .348. The California native is only 1-6 at the Big A in Anaheim.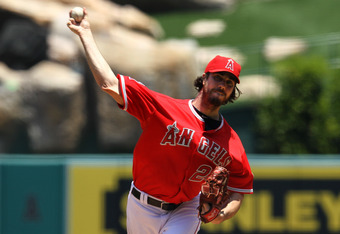 Stephen Dunn/Getty Images
Tim Lincecum 2-6, 2-10, -9.5 units
The last thing anyone would figure is a two-time Cy Young winner would suffer from is a lack of confidence. However, San Francisco announcer John Miller said on Joe Morgan's radio show that he believed this has been part of Lincecum's problem.
All season, the Giants ace has suffered the one bad inning and usually it's been early in games. There has been constant talk of his velocity being down (around 90 MPH, compared to 93-94 in his heyday), but an even larger issue is his lack of command. For most of his career, Lincecum has been in the 2.3 to 2.4 walks per start range; however, this season he's at 2.9. With his inability to put the ball where he wants, his hits allowed and innings pitched are virtually the same and his WHIP is 1.52, compared to a previous high of 1.28 in his rookie campaign of 2007.
Another deterrent for the long-haired hurler is an inability to work himself out of jams, with opponents hitting .329 against him with runners in scoring position. The Giants are just 2-7 when Lincecum is a favorite (0-3 as an underdog) and are 1-8 in night games.
Ervin Santana 2-7, 3-9, -8.5 units
Another Angels pitcher that is letting his club down is Santana. The Dominican native started 0-6 and most of problems were self induced. Santana is setting up negative numbers that are haunting him and could make this a truly disastrous season. The right-hander is on pace for career highs in walks and home runs permitted, a deadly combination. Obviously, control and location are undermining Santana, because his hits per inning are at career norms.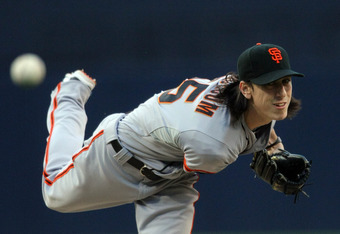 Donald Miralle/Getty Images
His largest weakness has been how he handles the heart of the opposing team's batting order. Slots 3, 4 and 5 on the other club are hitting .368 against his pitches, with an on-base percentage of over .460 and a slugging percentage of over .800. One could make the case Santana is trying to be too fine to these hitters with his strikeout-to walk ratio nearly even at 16 to 15. To this juncture of the campaign, he and the Halos are only 1-5 at home.
Henderson Alvarez 3-5, 3-9, -7.8 units
At just 22-years old, Alvarez is still learning on the job and it's not easy to be harsh about a pitcher still finding his way. Still, this is about wins and losses and money exchanging hands, making the facts what they are. Alvarez has a mid-90's fastball and an advanced changeup. He's always been outstanding at every level at ground ball-to-fly ball percentages and this year he's been even better at two to one. So what is Alvarez missing?
Last year hitters talked about his late movement on his fastball, which helped him rack up four punchouts per start and number of weak groundouts. In 2012, he's averaging less than two K's per start and last year's fabulous five to one strikeout to walk ratio is now barely one to one. He's been especially impotent vs. lefties, who are batting a crisp .306 against him, compared to .236 by right-handed batters. As stated, Alvarez is still in the developmental stage and needs greater focus when he climbs the mound since teams are hitting .306 against him with no runners on base. He and the Blue Jays are 1-6 on their home turf.
Let's make this clear: this is a snapshot in time and does not suggest that this is how these pitchers will perform all season. However, in each case, they will have to change a pitching strategy or find a more comfortable, confident groove to alter their seasons.