Mets vs. Yankees: Live Stream, Injuries, Pitching Matchups and Fantasy Preview
June 8, 2012
The 2012 version of the Subway Series kicks off on Friday night in Yankee Stadium, as the New York Yankees play host to the surprising New York Mets in the annual three-game series to determine who gets bragging rights. 
There were no expectations for the Mets coming into the season, so to see them sitting at 32-26 at this point has people in Queens smelling something. Unfortunately, when reality hits them in the face, it won't be a pleasant smell. 
On the flip side, the Yankees always have high expectations. After a slow start, they have really turned things on. That should be no surprise, as they always seem to take their time out of the gate before playing like everyone expects them to. 
Where: Yankee Stadium in New York
When: Friday, June 8 - Sunday, June 10. Friday and Saturday games start at 7 p.m. ET. Sunday game starts at 1 p.m. ET
Watch: MSG Network (Mets); Yes Network (Yankees); Fox National Broadcast (Saturday)
Live Stream: MLB.tv
Mets Injury Report (via CBS Sports)
15-day DL: Mike Baxter (Shoulder); RP Ramon Ramirez (Hamstring); SS Ruben Tejeda (Quadriceps); SS Ronny Cedeno (Calf); 2B Justin Turner (Ankle)
60-day DL: SP Mike Pelfrey (Elbow)
Questionable: OF Jason Bay (Illness)
Yankees Injury Report
15-day DL: RP David Robertson (Oblique); LF Brett Gardner (Elbow); C Austin Romine (Back)
60-day DL: SP Michael Pineda (Shoulder); RP Mariano Rivera (Knee); RP Cesar Cabral (Elbow); RP Joba Chamberlain (Elbow, Ankle)
Pitching Matchups
Friday: Johan Santana (3-2, 2.38 ERA) vs. Hiroki Kuroda (4-6, 3.82 ERA)
Saturday: Dillon Gee (4-3, 4.48 ERA) vs. Philip Hughes (5-5, 4.96 ERA)
Sunday: Jonathan Niese (4-2, 4.11 ERA) vs. Andy Pettitte (3-2, 2.78 ERA)
Mets Fantasy Must-Starts
Johan Santana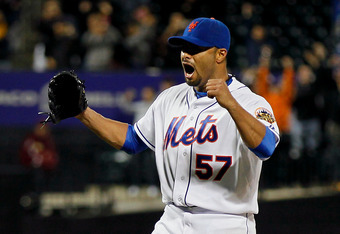 Mike Stobe/Getty Images
The return of Santana this season has been nothing short of incredible. He missed all of 2011, and had no expectations when the year started. Now, he has reestablished himself as one of the best pitchers in the game. 
In 68 innings pitched, Santana has 68 strikeouts, allowing only 49 hits. Even though his fastball velocity isn't what it used to be, he can get away with it because that sweet changeup is still giving hitters fits. 
David Wright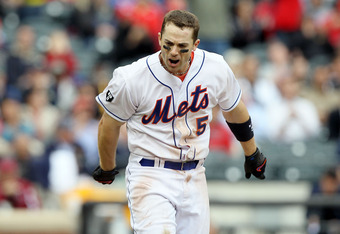 Jim McIsaac/Getty Images
Some people, myself included, thought Wright's best days were behind him. He couldn't stay healthy last season, and looked like a shell of his former self at the plate. 
Here we are, two months into the season, and Wright is one of the best players in the National League. His offense has been better than ever, with 37 unintentional walks to 30 strikeouts, and a .359/.461/.578 slash line. 
Yankees Fantasy Must-Starts
Robinson Cano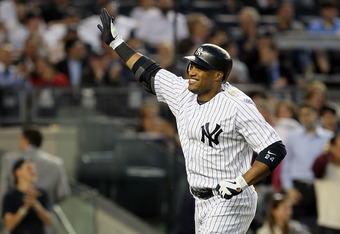 Jim McIsaac/Getty Images
Looking at the individual WARs of all the position players on the Yankees, it is astounding how much more valuable Cano is than anyone else. His WAR so far this season is 2.5; no one else is over 1.3. 
Since we are talking fantasy stats, all you need to know is that Cano is hot with the bat in his hands right now. He has 20 extra-base hits in his last 128 at-bats, including seven home runs. 
Curtis Granderson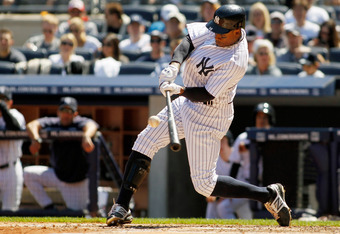 Mike Stobe/Getty Images
If you are a fan of batting average, Granderson probably isn't the player for you. if you like home runs and runs scored, he is the player for you. 
The month of June has not been kind to the Grandy Man thus far—he is hitting just over .200 with two extra-base hits. He is so consistent each month that it is hard to envision his struggles continuing too much longer. 
Prediction
The Yankees are the better team, and should win at least two games. I like their advantage in the pitching matchups on Saturday and Sunday.
Yankees win series, 2-1.