WWE NXT: Is Watching Again for the 1st Time Worth Your Time?
June 7, 2012

The last time I remember watching NXT was Season 2, and I'm not sure that I watched long enough to see Kaval win. The WWE didn't seem to promote Season 3 as heavily as the previous seasons, and when Tough Enough came on with Steve Austin as a host, I completely lost interest in NXT.
But, I just recently started watching Superstars again, and I was pleasantly surprised, so I thought I'd give NXT one more shot.
This is not the NXT I remember.
Apparently, the show is called "NXT: Redemption" this season. It seems as though they have lost the faux-reality show aspect, as there was never any mention of eliminations or voting or contests. As far as I could tell, they don't even have rookie/pro combinations anymore.
So what is this show? If it's not officially a vehicle by which to land a WWE contract, what is it? This episode, which aired online on June 6, featured four matches between wrestlers from the bottom of the barrel, still trying to find themselves (JTG, Tyler Reks, Percy Watson) and low-rung (as far as push in the WWE, not talent) performers such as Natalya, Justin Gabriel and Tyson Kidd.
Let's make a baseball analogy. Raw and SmackDown are like the American and National leagues of the MLB (shout out to my St. Louis Cardinals!). That means Superstars is like Triple-A ball (shout out to my Iowa Cubs!). FCW would be something like Single-A baseball, leaving NXT as Double-A ball (sorry, I don't know any Single- or Double-A teams to give shout outs for).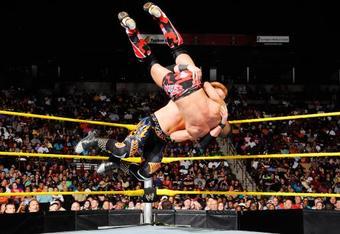 Much like Superstars or a Double-A baseball team, NXT will give you a taste of what might be seen on a bigger stage sometime in the future. JTG has used NXT to rebrand himself, and if it gets over better than his Cryme Tyme gimmick, he could make one more run at prominence.
Seeing Tyson Kidd and Justin Gabriel relegated to this show was a shame. They put on a fantastic match against Heath Slater and Johnny Curtis. Much like Sin Cara, Kidd and Gabriel would benefit exponentially if the WWE would develop a Cruiserweight Division or X-Division to allow them to really show off their talents. Assuming that's not going to happen, they need to put these guys in a few high-profile tag team matches.
Can you imagine a three-team program for the Tag Titles featuring current champs Kofi Kingston and R-Truth, along with Epico and Primo, and Kidd and Gabriel? Put those teams in a ladder or TLC match for the Tag Titles and it has potential to live up to the Hardyz/Dudleyz/Edge & Christian matches of the Attitude Era.
Personally, I'm not a big fan of Tamina, but her match with Natalya was as good, technically-speaking, as anything we've seen from any of the divas on Raw or SmackDown lately. I wish the WWE would send a clear message that divas like Natalya, Tamina, Beth Phoenix and Kharma are in a different league than Alicia Fox or Kelly Kelly.
So NXT delivered two solid matches for the two divisions they are currently trying to rebuild: the tag team division and the divas division.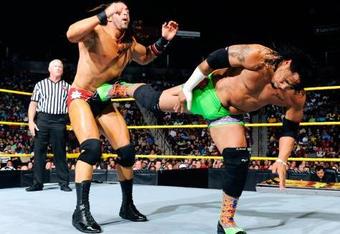 Of course, since it is WWE programming, there was the obligatory recap, featuring The Big Show and his path of destruction. We just can't get away from it.
Percy Watson facing off against JTG wasn't a bad match. It wasn't anything mind-blowing, but both of these guys could be a real asset if they can find a gimmick that connects them with the WWE Universe. Otherwise, the only pay-per-view appearance they can hope for is the Royal Rumble, or a WrestleMania dark match battle royal.
Tyler Reks vs. Jey Uso was probably the low-point of the show, but if what you're tuning in for is wrestling more than drama, then you'd probably be okay with this match.
So, what are my thoughts? Am I going to keep watching NXT?
Not with the same dedication that I watch Raw and SmackDown.
Raw is about to start their three-hour show. So watching that and SmackDown will put me at five hours of WWE programming every week. If I decide to squeeze in another hour of wrestling, I'm probably going to check out Superstars, or skim through some TNA action.
As soon as I get a paycheck that requires nothing more than writing about sports entertainment, I'll start watching NXT every week. Until then, as long as WWE already has three higher-caliber shows that total six hours of weekly programming, I just don't have the time for NXT.
But if you have the time and you really love this industry, do yourself a favor and check it out. Then you'll know what's coming down the pipeline before any of the rest of us!