Euro 2012 Has All the Ingredients To Be a Classic Tournament
June 7, 2012

Euro 2012 eve. Nerves wrangle for players, coaches and fans of all 16 nations, and excitement fizzes like a shook-up soda bottle on the back seat of a barreling fighter jet.
Football doesn't get any better than the group stage of a major international tournament.
All 16 teams start afresh. All 368 players have an open invitation to leave a legacy. And as we've seen many times over the years, just about anything is possible.
Drama is incessant, and as the narrative slowly builds toward the decisive third round of games, you find yourself with powerful allegiances you never before countenanced.
You don't know it yet, but some of you will find a place in your heart for Ukraine, Denmark, Sweden or the Czech Republic over the next couple of weeks. Others will be crazy for Croatia.
Sport's great unknown looms large, and our anticipation knows no bounds.
It's easy to get carried away, but everything is in place to suggest Euro 2012 will be a classic—perhaps one of the great international tournaments.
Spain are on the scent of history. A third successive major tournament triumph would be unprecedented and further their case as one of history's best teams.
But this Spain are without two of their defining players—Carles Puyol and David Villa. And this Spain are thought by many to have hit upon the point of exhaustion.
Is a dynasty about to slide into decline? Or are we about to witness a show of defiance as convincing and overwhelming as anything we've seen before?
Spain were once the great pretenders of international football. Now, they're the team in possession.
Germany want the throne back. Not since 1996 have the Germans won a major international tournament. When you consider their rich history of success, it must feel like a lifetime.
Joachim Low's men blitzed their way to qualification. Two years on from their disappointment as semifinal losers to Spain at World Cup 2010, they're more experienced and more motivated than ever to bring it home this time.
The Netherlands were beaten finalists in South Africa. They arrive at Euro 2012 with a world-class roster of talent, but still only one major trophy to their name—the 1988 European Championships.
Consider the attacking threat of Robin van Persie, Klaas-Jan Huntelaar, Arjen Robben and Wesley Sneijder.
But also consider they start in the "Group of Death," alongside Germany, Portugal and Denmark.
Portugal are the outsiders, but anytime you've got the world's second-best player at your disposal—in Cristiano Ronaldo—you've got a fighting chance.
Ronaldo, perhaps more than any player at Euro 2012, has a point to prove. For all his dominance at the club level, with Manchester United and Real Madrid, he remains saddled with the accusation he hasn't delivered on the international stage.
Knocking down either Germany or the Netherlands would be a pretty convincing argument against that notion.
And then there's the French revolution.
In South Africa, under Raymond Domenech, France were an embarrassment on and off the field. They finished bottom of their group and suffered a mutiny within their ranks to boot.
New coach Laurent Blanc has banished the demons. France are unbeaten in 21 games heading into Euro 2012 and have a genuine shot at ultimate redemption.
You want French flair? Franck Ribery, Karim Benzema, Yohan Cabaye and Hatem Ben Arfa are all buzzing off electric domestic seasons and ready to provide it.
The French are defensively strong too, but it remains to be seen if the ghosts of South Africa in 2010 may yet come back to haunt them.
Michael Regan/Getty Images
England will be hoping so. Roy Hodgson's injury-ravaged, largely written-off team face France in the opening match of Group D.
But can you really write off a team that includes Champions League winners in Chelsea's Ashley Cole and John Terry and the likes of Steven Gerrard, Joe Hart and Wayne Rooney?
Rooney will miss the first two matches, of course, but like Ronaldo, will take the field desperate to hush the doubters and banish the memories of international failures past.
Italy, meanwhile, come into the tournament overshadowed by the latest match-fixing scandal to rock their domestic game.
Such controversies did well for their campaigns at the 1982 and 2006 World Cups. And when you're talking about a team who only conceded twice in 10 qualifying matches, Italy may yet have a say at the business end of Euro 2012.
Don't be surprised if they beat Spain first up. And don't be surprised if further revelations continue to stain their reputation as the tournament progresses.
Also in Italy's group are the Republic of Ireland, who were so cruelly robbed of a place at the 2010 World Cup by Thierry Henry's handball for France in their playoff game.
The Irish are easy to love and have a history of causing upsets at major tournaments.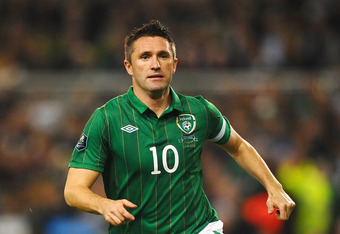 Laurence Griffiths/Getty Images
At World Cup 2002, they drew with Germany in the group stage and took Spain to penalties in the last 16. At the 1994 World Cup, they beat eventual finalists Italy.
Don't rule out a shock against Italy or Spain this summer either, because the Irish nearly always add up to more than the sum of their parts.
The same is likely of the co-hosts, Poland and Ukraine. Partisan crowds will give both a huge boost, and we should all hope at least one makes it to the knockout stages to maintain local interest.
Everywhere you look, there's a storyline.
Zlatan Ibrahimovic will lead the line for Sweden, Andrei Arshavin for Russia, Andrey Shevchenko for Ukraine. All three men have their motivations to take the tournament by storm this summer.
Greece can't live off their Euro 2004 triumph forever; Denmark's Christian Eriksen is one of the most talked-about young talents in European football; Croatia's Luka Modric is a proven match-winner.
Put simply, we're in for one hell of a tournament. It could just be one of the best we've seen.