Derrick Rose: How Would a Championship in His Absence Affect His Legacy?
June 9, 2012

Jonathan Daniel/Getty Images
There's a chance that Derrick Rose could miss the entire 2012-2013 NBA season due to an ACL tear he suffered in Bulls' first game playoff game against the Philadelphia 76ers.
His lack of availability adds to the mounting personnel issues that Chicago has to address in the offseason.
In response to this near-crisis, the Bulls brass does not seem content with rolling over next season just because Rose could be out; as a matter of fact, they seem to have big plans to keep Chicago at the top of the Eastern Conference despite being without their former MVP.
Aggrey Sam of CSNChicago.com reported that the Bulls intend to pursue free agent point guards Steve Nash and Jason Kidd to fill in for the injured Rose.
It seems like the belief here is that if the team's core remains the same, then a very capable point guard should keep the Bulls in contention.
Now, there are some financial hurdles the Bulls would have to clear. Options on CJ Watson, Ronnie Brewer and Kyle Korver would have to be waived to clear initial cap space, and a tough decision will have be made on Omer Asik if resigning him means the Bulls would go into the luxury tax.
All foreseen and unforeseen circumstances aside, if Bulls are able to pull this off then they can't be counted out of contention next season.
So let's broach a hypothetical then: If the Bulls get their desired point guard and win an NBA title next year, what would that do to Rose's budding legacy?
Without question, Rose is still the franchise player and cornerstone of the Bulls franchise, but wouldn't his team winning a title without him diminish his value a bit?
Nash and Kidd are more than capable of keeping the Bulls in winning form; their games suit Tom Thibodeau's team dynamic very well.
The addition of either veteran will be a bit of contrast to what the Bulls are used to from point guard play; Nash and Kidd are pass-first players looking to get others involved before themselves.
If that inclusive dynamic translates into postseason success in the form of a championship, it could serve as a referendum on Rose's style of play and make some wonder if he is more a part of the problem as opposed to being part of the solution.
Despite his humble demeanor and tremendous work ethic, there are some who can and do say that Rose's game is the type can put wins on a team's record but cannot deliver the NBA's ultimate prize.
When looking back over the course of the league's history, the champions of NBA's past, both recent and distant, were teams whose point guards were not so dominant when it came to carrying their squad's scoring load.
Sure, there were point guards who could score, but the teams who ultimately triumphed had point guards who played more like Nash and Kidd than Rose.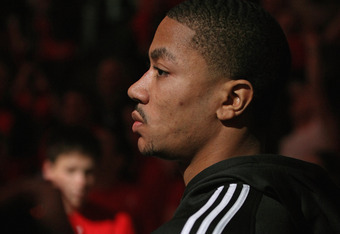 Jonathan Daniel/Getty Images
Of course, there is a converse argument that can made for Rose.
For starters, it would be hard to say that Rose can't play the facilitator-first role because he has yet to play it.
The biggest reason that Rose dominates the ball the way that he does is because he has to; despite the talent on the Bulls' roster, no one is as consistent–night in and–as Rose.
Who knows what would be accomplished if he had legitimate shot-creator at the shooting guard position who could isolate and score just as well as Rose could.
Like every good debate there would be two credible sides to this issue; however, it would be hard to beat back the skepticism that would emerge if Bulls made that run that fans haven't seen since 1998.
But even if that hypothetical were to occur, the speculation on Rose that would follow would be a little unfair.
If the Bulls were to bring home a title, the credit would be because of the effort of the management, coaches and players more than anything else.
Gar Forman and John Paxson would be credited for making the moves that kept the team in contention, and Thibodeau and company would be lauded for making it work.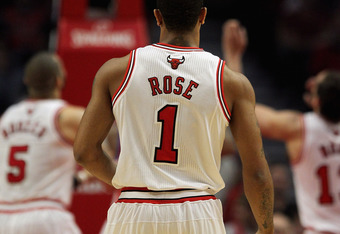 Jonathan Daniel/Getty Images
Given Rose's personality, he would be happy to see his teammates succeed and look to adding to that joy when he returns to regular form.
Rose is a young player whose best basketball years are still ahead of him; he will have plenty of opportunity to add to the Bulls' championship legacy and forge his own NBA legend.
Should Chicago pull off the near unthinkable and win it all without their star next season, it should be received as a great accomplishment but only the beginning of what's to come in the Rose era.