Former NFL Linebacker Nate Webster Sentenced to 12 Years in Prison
June 6, 2012

Steve Dykes/Getty Images
Former NFL linebacker Nate Webster has been sentenced to 12 years in prison for sleeping with an underage teenager.
According to an AP report in the Columbus Dispatch, the teenager involved was the daughter of a Cincinnati Bengals coach. Webster was sentenced on four counts of unlawful sexual conduct with a minor and could have received up to 20 years behind bars, according to a court official.
The 34-year-old former star played college ball at Miami (Fla.) before being drafted by the Tampa Bay Buccaneers in the third round of the 2000 NFL draft. Webster won a Super Bowl with the Buccaneers in 2003, but was traded to the Bengals the following year.
He ultimately ended his career with Denver Broncos after the 2008 season.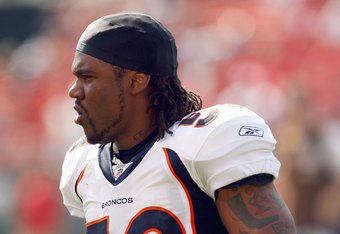 Jamie Squire/Getty Images
According to the report, prosecutors say Webster had sex with the girl in 2009 and that he "threatened to harm her if she told anyone," but then admitted to having sex with her the following year when she was 16 years old, the legal age of consent in Ohio.
Prosecutors also say Webster turned down a plea deal that would have sent him to prison for only four years.
Prior to the incident, it was reported that Webster was working at Bellevue High School in Bellevue, Ky. as a football coach.