Arizona Diamondbacks: Ken Kendrick Rips Stephen Drew and Justin Upton
June 6, 2012

Tony Medina/Getty Images
It certainly gets hot in the desert. Right now, things are starting to boil over.
Arizona Diamondbacks managing partner Ken Kendrick was featured on Prostopreps.com via telephone interview with Brad Cesmat on Monday. In the interview, he questioned Stephen Drew's commitment to returning to the field this season and referred to All-Star outfielder Justin Upton as an "enigma."
Currently, the Diamondbacks are third in the NL West, but they own a losing record of 25-30. It has clearly been a disappointing start for a team that found itself in a groove at the end of the 2011 season and clicking on all cylinders when the calendar turned to October.
Now, however, frustration is mounting in the front office—so much so that Kendrick went on to call out two of the Diamondbacks' key players. In the case of Stephen Drew, Kendrick had this to say:
"I'm going to be real candid and say Stephen and his representatives are more focused on where he is going to be a year from now than going ahead and supporting the team that is paying his salary. All you can do is hope that the player is treating the situation with integrity. We have our concerns."
While it never seems appropriate to question a players integrity, especially mid-season, the D'backs have a history of calling for players to return from injuries before they're ready. 
Brandon Webb anyone?
While Drew has not played in any games this season for the snakes, his replacement, Willie Bloomquist, has played admirably well in his absence. Bloomquist is currently batting .283 with 10 RBIs and 21 runs scored.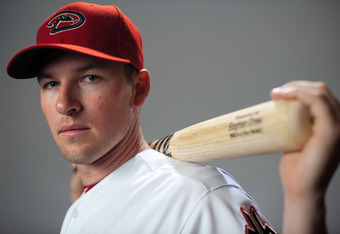 Rob Tringali/Getty Images
Drew is a career .270 hitter who offers more RBIs, but isn't missed as much as he could be right now.
Justin Upton's situation, on the other hand, has been more alarming.
"I think Justin is an enigma at this point,'' Kendrick said, "I know he had an injury. It was something of a nagging injury, but he's played...He's certainly not the Justin Upton he has been in the past, and we would expect of him. He's 24 years old. It's time for him to be a consistent performer, and he's not been that."
Upton has the tools to be the next Barry Bonds. Not the steroid fueled Bonds, the Pittsburgh Pirate Bonds. The problem is, he's just...well, not.
Kendrick hit the nail on the head; right now, Upton is an enigma. His .243 batting average isn't exactly leaving opposing pitchers shaking in their boots.
The D'Backs need their stars. They need them healthy and committed. Right now, that is something the team can't say with confidence that they have.