Chicago Bears: Looking at the Upside for the 2012 Offseason
June 5, 2012

Nick Laham/Getty Images
Yesterday, we looked at the Lions' offseason from a positive point of view, and today, we'll take a look at what we've seen so far with the Bears and what that might mean for the regular season.
While the Bears' offseason has been far less tumultuous than the Lions', there are still some things going on which certainly cause concern.
Let's take a closer look at them, though, and see if we can't shed a little positive light on them.
Offensive Line
We'll start with what is my single biggest concern for the team: who is playing left tackle.
Right now, the team is playing musical tackles with J'Marcus Webb and Chris Williams while Gabe Carimi heals and possibly ends up at right tackle when healthy.
The upside here is, the team is getting a look at their options now in June, not later in August. Webb was just thrown into the fire last season, with no training camp at that, and will benefit from a simpler scheme, more hands-on offseason training and a new staff.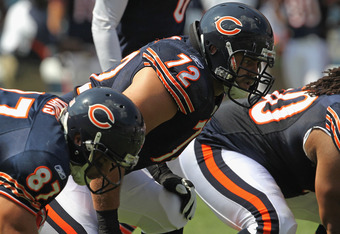 Jonathan Daniel/Getty Images
Williams may end up the same way. His first couple of stints at tackle didn't end well, and truth be told, his time at guard wasn't better. We'll see if new coordinator Mike Tice and line coach Tim Holt can turn their careers around this summer.
Carimi will be back, and while I think he's their best hope at left tackle, even having him at right tackle will be an improvement.
Finally, if things don't look good after OTAs, there is plenty of time to seek out either a trade or free-agent help.
That's not the ideal scenario, but there's still time before it comes to that.
The most important thing will be the new, stripped-down blocking system. There is a lot of youth on this line and more than a little potential.
The Backfield
The Matt Forte drama is a concern—the closer we get the training camp, the bigger a concern it is.
However, the Bears made a move which could keep them safe in the event that Forte holds out into the season or equally bad, misses training camp and then, as so many players who skip camp have happen, gets hurt.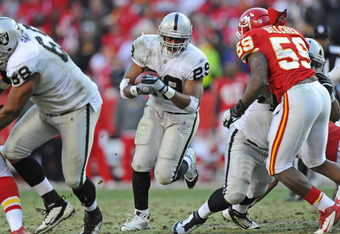 Peter Aiken/Getty Images
Michael Bush is not as good as Matt Forte. He's a very good back, but has yet to show his talent is at the same level as the guy who he shares a backfield with.
However, he is an excellent running back who can carry the load without Forte. Further, this division throws more than it runs. The Lions made the playoffs last season without a real run game.
The Green Bay Packers sometimes seem as though they forget they have a running back.
An elite running back is nice, but not a necessity.
A good solid one is an asset—that's what the Bears have in Bush.
Bush has been good in OTAs and mini-camps. The summer is giving him time to get acquainted with his new team and its offensive schemes, and to get on the same page as Jay Cutler and the offensive line.
With Forte absent, Bush gets the bulk of the practice reps to himself, which will only speed up his understanding of the offense.
Forte not being in camp is frustrating, but it's not necessarily a bad thing either.
Wide Receivers
By all accounts, the receivers are doing very well. We should take it all with a grain of salt since it's guys in shorts with very little coverage on them and certainly no real physical play.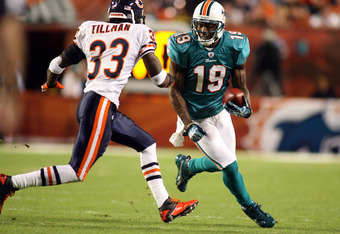 Marc Serota/Getty Images
That said, as there is a new offensive system being installed and we've got two potentially major new players in the starting lineup, it's promising to hear that things are looking good.
Brandon Marshall seems to have picked up where he left off with Jay Cutler, and rookie Alshon Jeffery appears to be learning the playbook quickly. Devin Hester allegedly looks very good in the new offense, and Earl Bennett has been his usual reliable self.
If there is one dark cloud here, it's Johnny Knox. While his rehab is going along fine, I think it's unlikely he plays again this season—certainly it won't be anytime soon.
With the new editions to the offense, it shouldn't hold them back, but I think they'll miss him all the same.
Still, we're looking at a core group that is very talented and could do some real damage on the field come September.
Quarterback Depth
While you can't replace Jay Cutler, there's no need to pack it in if he goes down. That's what part of last season felt like, though, and the Bears signed Jason Campbell to make sure that never happens again.
Campbell isn't an elite quarterback by any means, but he's a solid journeyman who has rarely had the weapons around him—much less the coaching—to really do much.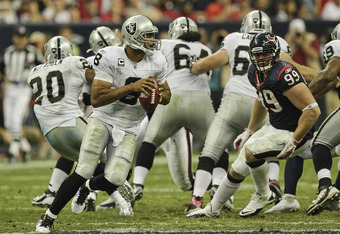 Bob Levey/Getty Images
He's more than able to step in for a chunk of the season of Cutler goes down—which of course, one hopes will not be the case.
Better safe than sorry, though—as the Bears found at last year to their dismay.
Cutler himself is healthy and very excited to work in Mike Tice's new offense—or at least not be in Mike Martz's offense.
If he can stay healthy, the shy is the limit for this team. However if he gets hurt, after an offseason of work getting acclimated, having Jason Campbell to step in means it doesn't have to all come crashing down.