MLB Draft 2012: Southern California Set to Double Up in First Round Again
June 4, 2012

Southern California has long been a hotbed for baseball prospects and figures to build on that already-sterling reputation at the 2012 MLB Draft. The Southland is expected to send at least two players on to the professional ranks within the first 31 picks on Monday.
From the same high school team, no less.
Lucas Giolito and Max Fried of Harvard-Westlake High in Studio City, California stand out as two of the most intriguing (if not the most talented) pitching prospects in this year's draft class. Giolito was a serious contender for the No. 1 overall pick once upon a time, before an elbow injury kept him off the field for most of his senior season.
When healthy, the 6'6", 240-pound right-hander has been known to hit triple-digits on the radar gun with his fastball.
Fried, on the other hand, made his way to Harvard-Westlake for his senior year after his previous school (Montclair Prep) cut its athletics department. He's been touted by some as the best left-handed pitching prospect to come out of Southern California in a decade.
Giolito and Fried have both signed on to join the baseball program at UCLA, but figure to forgo their amateur eligibility in favor of big bonuses and the chance to begin their respective quests to the Big Leagues sooner rather than later.
Unless, of course, Bruins head coach John Savage can somehow lure them to Westwood, as he did in 2008 with Gerrit Cole. Cole was drafted in the first round of the 2008 draft by the New York Yankees with the 28th overall pick, but decided instead to spend three years as a Bruin instead.
Three years later, Cole came out as the No. 1 overall pick of the Pittsburgh Pirates in last year's draft, just two picks ahead of UCLA teammate and current Arizona Diamondbacks uber-prospect Trevor Bauer.
But SoCal's record of sending teammates to the pros in the first round extends even further back.
In 2007, Chatsworth High infielders Mike Moustakas and Matt Dominguez went second to the Kansas City Royals and 12th to the Florida Marlins, respectively. Moustakas, in particular, has emerged as a productive power-hitter at the hot corner in KC this season.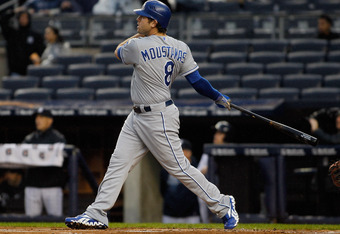 Mike Stobe/Getty Images
Serendipitous pairings aside, it's become something of a rite of spring for SoCal to have multiple representatives in the first round of the pro baseball draft.
This year should be no different, so long as Giolito and Fried—along with a host of other highly-touted high schoolers (i.e. Camarillo High's Hunter Virant, Lakewood High's Shane Watson, Upland High's Daniel Robertson, etc.)—prove to be as tantalizing to scouts and frontoffice folks as expected.