Debating Which Patriots Defender Is Most Key to New England Defensive Turnaround
June 4, 2012

Elsa/Getty Images
If the New England Patriots had struggled any harder on defense in 2011, owner Robert Kraft may have invested in a brick wall at the 50-yard line.
Something tells me, though, that the competition committee wouldn't be too supportive of that.
Someone's going to have to step up, and while it will obviously be a team effort, which player is the most key to New England's improvement on defense?
To debate the topic, we bring in Patriots beat writer Nick Underhill of MassLive.com, who can also be found on Twitter.
Take it away, Nick.
Nick: I'm still not convinced that all the elements are there for a brick wall to sprout out of the Gillette Stadium turf.
Vince Wilfork, Jerod Mayo and Patrick Chung still serve as the mortar of the defense, so any turnaround will be dependent on them playing at their typical levels. How safety Steve Gregory shores up the spot next to Chung will also be key, and cornerbacks Ras-I Dowling and Devin McCourty need to prove to be healthy and effective at cornerback if the Patriots hope to plug all of the leaks.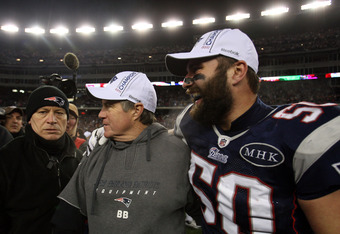 Jim Rogash/Getty Images
But forced to narrow it down to one, while a little bit under the radar, the guy that I think is linebacker Rob Ninkovich. He struggled a little bit at first in the 4-3 alignment, but came on strong during the second half of the season and proved to be a proficient pass-rusher by recording 6.5 sacks.
Interestingly, he's been playing some defensive end during OTAs and could be used to help plug the gap created by the departure of defensive ends Mark Anderson (Buffalo) and Andre Carter (unsigned).
You didn't make this an easy one, Erik. I know I cheated by dropping more than one name, but you could easily make a case for any number of players.
Erik: It's understandable. The aspect of football as a team sport is prevalent inside the walls of Gillette Stadium; throughout Belichick's tenure, it's never been about just one guy.
Still, your case for Ninkovich is sound. He was one of just two players to start all 16 games last season, so the Patriots will definitely be counting on him, but if one guy is the difference-maker for the Patriots defense this season, I'm going with safety Patrick Chung.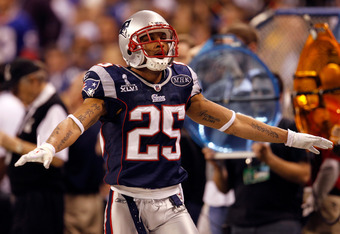 Rob Carr/Getty Images
One of the biggest problems the Patriots faced last year was poor play at the safety position. While the additions of safeties Steve Gregory and Tavon Wilson could help, Chung has been with the team since 2009 and carries three years of experience in the defense with him.
The Patriots will be leaning on him as a steady presence in the defensive backfield, and he could be the one responsible for much of the communication on the back end. But in order to improve, they'll need Chung to stay healthy. He has missed a combined 10 games in the past two seasons and played just eight games in 2011.
Like Ninkovich, Chung has positional versatility. He played mainly strong safety in 2010 and free safety in 2011. As a rookie in 2009, he played all over the secondary, even as a nickel cornerback. Having him healthy could be a big boost for the secondary.
Nick: Maybe we should just put a whole section on here labeled as "health."
As you mentioned, keeping Chung on the field is key, but the whole secondary battled injuries last season.
Dowling, pegged to start opposite McCourty last season, was gone with a hip injury by Week 3. Safety Josh Barrett appeared the first four weeks, made a cameo against the Giants and then was done for the year. Watching safety James Ihedigbo, who remains unsigned, go to the ground and clutch his shoulder in pain became a weekly ritual. Even McCourty battled a shoulder injury.
I don't know how much better the embattled secondary would have been if health would have been on their side last season, but anytime Sergio Brown isn't forced to play has to be viewed as a victory for the defense.
Erik: What, you don't want more moments like this?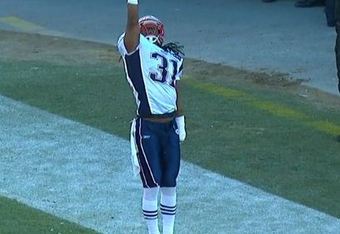 Good point about the health, though, and Dowling specifically could be another one who could be a key for the defense if he stays healthy. The assumption that the Patriots have solid depth at corner is based on the assumption that Dowling is healthy and plays well. He looked good in the two games we saw from him, but that's hardly enough to create a baseline of expectations for 2012.
To add to the list of McCourty, Dowling and Barrett, the return to health of Andre Carter could also be a huge factor. He is yet unsigned, and some new information suggests he may not return to the team until October. If he is anywhere near as effective as he was in 2011, that will be huge for a defense that could potentially be replacing 20 sacks between the production of Carter and Anderson.
If Carter isn't healthy or doesn't return to the team, that could thrust defensive end/outside linebackers Trevor Scott and Chandler Jones into the forefront. Scott has had a hard time staying healthy, and with a bit more organizational stability than he had in Oakland, he could finally settle in and find a groove. As for Jones, there's a ton of athletic potential there, and although the return on investment may not be immediate, there is the possibility for him to be utilized in similar ways to Mark Anderson.
So yes, there are plenty of legitimate suggestions for a key defensive player, and narrowing it down to just one can be difficult.
At this point, we've named nearly the entire defense, so there's that. Still, I'll stick by my original choice of Chung.
Nick: Can't argue with the choice of Chung, and I'll stick with Ninkovich.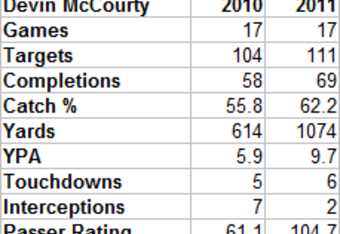 But I'm kind of shocked that we ventured this far into this debate and never really mentioned McCourty's shortcomings. The guy was targeted for 1,074 yards last season and appeared to lack the ability to cover anyone standing taller than 6'2". He has to bounce back for this defense to be considered anything other than Tom Brady's lackeys.
Erik: Great point, of course. Couldn't argue with McCourty even if you had mentioned him as your primary candidate. The cornerbacks will be in focus after the defense gave up an historic amount of yards through the air (4,977 gross passing yards is the second-most in NFL history).
Specifically, though, McCourty's difference in play from 2010 to 2011 was polarizing. It looks like he's a lock to play corner next year, even after the team experimented with him at safety last year, so they're clearly counting on him returning to the form of his rookie season.
And before we name every single Patriots defender, we'll wrap it up.
Thanks for joining me, Nick, and we'll certainly link up again in the future.
Vote to cast your pick for the most key Patriots defender to a turnaround in 2012. Check out more AFC East debates all week long at the AFC East blog.
Erik Frenz is the AFC East lead blogger for Bleacher Report. Be sure to follow Erik on Twitter and "like" the AFC East blog on Facebook to keep up with all the updates.