3 Philadelphia Eagles Being Drastically Overlooked Heading into 2012 Season
June 4, 2012

Rob Carr/Getty Images
Any failures or disappointments from 2011 seem to be forgotten by Philadelphia Eagles fans.  With a really positive and productive offseason, morale hasn't been this high in years.
Fan excitement stems from their favorite players being taken care of by management, the acquisition of a proven middle linebacker and a draft that actually made sense to the masses.
In all the excitement for the improvements a few minor details seem to have gotten lost.  By minor details I mean a few players who aren't necessarily generating any hype in newspapers or on talk radio.
Don't get me wrong, after the overselling of this team last year I don't mind less noise.  With that said, there are three players ready to make an impact that may be worth talking about.
The first is tight end Brent Celek.  It's not that people don't value him or respect him as a player, because they do.  The problem is that he isn't being recognized for how good a season he actually turned in last year.
Celek produced 62 receptions for 811 yards and five touchdowns, placing him in the top 12 among tight ends in all three categories.  
He averaged 13.1 yards per catch, had six drops, caught 66.0 percent of the passes thrown his way, had 14 receptions of 20 yards or more and led tight ends with an average of 8.0 yards after the catch.  
It's good but not great.  If you look closer, though, you will see that greatness could have been attained.
In the first six games of the season Celek was thrown to just 29 times.  He caught 13 passes for 115 yards and a touchdown.  
He posted just 8.8 yards per catch in that stretch.  He also had four drops, caught just 44.8 percent of the passes thrown to him, had two receptions of 20 or more yards and averaged 4.3 yards after the catch.
The Eagles called Celek's number more often in the final 10 games of the season and he really answered the bell.
Over the last 10 games he caught 49 passes for 696 yards and four touchdowns.  He averaged 14.2 yards per catch, had two drops, caught 75.4 percent of passes thrown to him and averaged 9.0 yards after the catch.
If you spread his production over a full season he would have amassed 78 catches for 1,114 yards and six touchdowns.  He would have ranked in the top seven in every statistical category at his position.  
He would have ranked third in and second in both catch percentage and plays of 20 or more yards.  He also did it all while playing with an assortment of injuries that required offseason surgery.
The next two are probably not as good as Celek but their success would arguably be more important.  Those players are safety Nate Allen and kicker Alex Henery.
For Nate Allen, let's face it, he's in a tough spot.  The Eagles have never filled the void of Brian Dawkins and Allen isn't up to that task.  He isn't a force in the box and has never proved to be physically intimidating.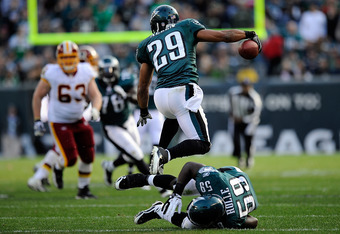 Patrick McDermott/Getty Images
What he can do is run and play in space.  While he struggle for much of 2011, a lot of it can be attributed to his torn patellar late in 2010. 
It should come as no surprise that he played his best football late in the season, when he was a full year removed from the injury.
In the four-game winning streak to close the season, Allen was constantly around the ball and made plays in coverage. 
According to Pro Football Focus he allowed just one completion in 11 attempts during that span.  He also had an interception and five passes defended.
Allen has five interceptions in his young career and with further experience and improved health he could be a legitimate NFL free safety.
That brings us to the final and most unlikely piece to the puzzle.  Alex Henery inherited the not-so-enviable task of replacing David Akers.  Akers enjoyed a tremendous season but Henery quietly produced.
He suffered through a shaky start over the first four games, hitting 8-of-11 field goals with none longer than 38 yards.  He missed two short ones in a 24-23 loss to the 49ers but was a perfect 16-for-16 the rest of the way.
The Eagles didn't call on him a ton last year, but he instilled confidence when he nailed a 51-yard field goal in Dallas in Week 16.  He attempted two from over 50, with the other a desperation 63-yard attempt to close the first half in Atlanta.
Most fans have little respect for the kicker but good ones are incredibly valuable in close games.  Henery showed late in the season that he can be counted on and that he has some leg strength as well.
With a tough schedule in 2012, the Eagles may find themselves in a lot of close games.  If Henery makes a jump in production and continues to play the way he finished 2011, the Eagles will be in good hands with his right foot.