NBA Draft 2012: Why Kris Joseph Is a Better Pro Prospect Than Fab Melo
June 4, 2012

Chris Chambers/Getty Images
Brazilian big man Fabricio Melo appeared to be destined to play for a college team where his name was already synonymous with greatness. It seemed like a match made in college basketball heaven.
Only it wasn't.
While the Syracuse basketball community was disappointed with the second-best center prospect coming out in 2010 (according to Rivals.com), a lightly recruited forward from Montreal had taken over the leadership role on the Syracuse Orange basketball team.
The 6'7" Kris Joseph, not Melo, had become the big man on campus. And for good reason.
Melo averaged just 9.9 minutes per game in his freshman season, scoring an average of 2.3 points per game and coming down with just 1.9 rebounds per game under the tutelage of marred assistant coach Bernie Fine.
Melo turned it up last season, and top assistant Mike Hopkins deserves a lot of credit for the evolution of his game. Still, in his best college season, Melo averaged just 7.8 points and 5.8 boards per game.
In Joseph's best college season, he averaged 14.3 points, 5.2 rebounds, 2.2 assists and 1.5 steals per game. He also shot the three-ball at a 36.6 percent clip. Those are solid numbers and were pretty consistent over his final three seasons.
The key stat for Melo, however, proved his value on the defensive end. The legitimate seven-footer averaged a sensational 2.9 blocks per game, leading a stout defensive team to the NCAA tournament as a No. 1 seed.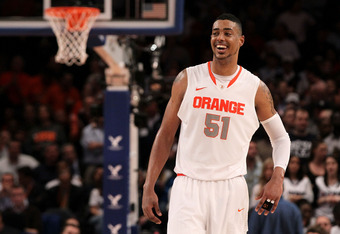 Jim McIsaac/Getty Images
But we all know what happened next. Melo let his teammates down and was suspended again, this time being ruled ineligible for the entire 2012 NCAA tournament.
Kris Joseph is a true leader and a team player, and he would never jeopardize his team's chances at a title. Which is why I would rather have Joseph on my NBA team over Melo.
Joseph is a safer pick, with the size and versatility to be a solid contributor at the small forward position. He's long and athletic and has the ability to get to the rim with authority or score from the perimeter.
While Joseph does need to improve his ball-handling and become a more consistent shooter, Melo is a major project for a team with patience. His offense is extremely raw, especially with his back to the basket.
If Melo wants to be a solid contributor in the NBA, he has to develop a post-up game.
Another wild card is his unproven man-to-man defense. He was a force playing in the middle of that vaunted Syracuse zone, but it remains to be seen how good he can be defending a player one-on-one over the course of a game.
While he might have more potential than Joseph, Melo's development will require time, a good attitude and tremendous discipline. 
And he hasn't done much to show that he possesses a good attitude or anything resembling discipline, as it appears he couldn't keep up with the minimum number of basic, low-level college courses required to play college ball.
Joseph has all the intangibles you could ask for, as well as further-developed tangibles than Melo. That combination is enough for me.
By drafting Joseph, you know you're getting a hard-worker with a team-first mentality. Which is a lot more than you can say about Melo at this point.
Maybe I'm a biased Syracuse alum with bitter feelings toward Melo, but I've always loved Joseph's competitiveness and team spirit.
Though I'm not sure either could ever be an All-Star, Joseph is the guy I'd rather add to my team.