Arsenal Update: Van Persie on Song and the Belgian Affair
June 3, 2012

Denis Doyle/Getty Images
With Euro 2012 barely days away, various national teams got the chance to get more games under their belt in preparation for the tourney. From an Arsenal perspective, 12 ambassadors represented their nations in a host of international friendlies with Robin van Persie stealing the show as the star attraction.
Great entertainment was the spectacle in the Amsterdam Arena as the Netherlands demolished Northern Ireland with Robin van Persie being on the spotlight for all the right reasons. The Flying Dutchman opened the scoring with a close-range header from a brilliantly executed training move.
Wesley Sneijder doubled the lead with a brilliant free kick. Van Persie had a chance to make it three when Shane Ferguson was adjudged to have handled the ball with his hand in the box from a van Persie flick. He took the penalty and sent the keeper the wrong way.
Van Persie turned from scorer to provider as he supplied two assists to Ibrahim Afellay and the rout was completed on a Ron Vlaar header.
The Oranje will certainly be a star attraction in this tourney, and they'll have to strut their stuff against juggernauts like Portugal and Germany in what promises to be a mouth-watering group.
Elsewhere, England faced a very strong Belgian side with the likes of Eden Hazard, Thomas Vermaelen, Jan Vertonghen, Axel Witsel, Marouane Fellaini, Vincent Kompany and Moussa Dembele on song. However, it took a Danny Welbeck strike to settle the proceedings.
Feel free to check the performances of other Gunners on international duty.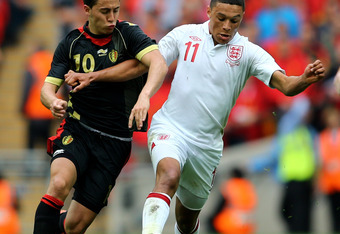 Clive Mason/Getty Images
Thomas Vermaelen has also expressed his delight in Eden Hazard's decision to come to the Premier League. After weeks of endless flirting with the predators of Europe, Hazard tweeted that his preferred destination is Chelsea.
Vermaelen spoke of his amazing technique, labeling him as one of the best in the business. He stated that Hazard's move will also be beneficial to the Belgian national team.
Still sticking with the Belgian affair, Ajax's Jan Vertonghen has almost completed his move to Tottenham, declining offers from Arsenal and AC Milan. Vertonghen was strongly tipped to make a move to the Emirates, but he has revealed that he was happy to meet Harry Redknapp and he's unconcerned that they are not in the Champions League.
However, he admitted that he wanted to play Champions League football, but he chose to be in Tottenham for the long term. He also talked up their training facilities and labelled Redknapp as a ''good and friendly'' manager.
In my honest opinion, Vertonghen choosing Tottenham over Arsenal and AC Milan is like having a choice between an iPhone and a Blackberry, but going for a Sagem. No pun intended, of course.
I've also learned from Stefan Gooner that Vertonghen doesn't like the Sun much and the shadow from Arsenal is nice shade. I guess it's another advantage for Tottenham being in Arsenal's shadow forever.
From an unbiased perspective, Vertonghen probably reviewed Arsenal's team and figured that he'll be behind Thomas Vermaelen, Laurent Koscielny and probably Per Mertesacker in the pecking order, so a move to Tottenham is a better move for the bloke, as he'll be odds on to play week in and week out.
For those that actually care, here are 10 things you need to know about Ventonghen.
The Arsenal Supporters Trust have sent a series of proposed questions to Arsenal's chief executive Ivan Gazidis, with Robin van Persie's saga being the main bone of contention.
The AST is disillusioned with the fact that the club has failed to "invest properly" following the exits of Cesc Fabregas and Samir Nasri, which generated an excess of £60m.
They also want assurances from the Arsenal hierarchy that Arsene Wenger will be handed a decent transfer kitty to land the kind of players that would show the club's ambition, as van Persie stated that he would stay if the club proves to him that they are willing to win in the future.
Another item on the agenda will be Alisher Usmanov and his investment group Red and White holdings. It was reported that the billionaire spent $100 million on a boat and $350 million on a new private jet recently, but he wants a seat on the board and wants to bring significant investment to the team.
AST want to know why silent Stan is blocking this.
In other Arsenal-related news, Wojciech Szczesny revealed that he has been working with a psychologist to stay focused on the pitch while Laurent Koscielny speaks about Arsenal's title chances next season.
That's yer lot, folks.
Happy Sunday.
This article is also featured in Toni Okike's Arsenal blog, Gooner Daily.