Seattle Mariners: Is Ichiro Suzuki Done Being a Dangerous MLB Hitter?
June 3, 2012

David Banks/Getty Images
It seems that the grand experiment of having Ichiro serve as the Mariners' No. 3 hitter is over. 
At the beginning of the season, this seemed like a worthwhile gamble with potential benefits that could serve everyone in Seattle.  It also gave the M's one final chance to see if Chone Figgins had anything left in the tank in hopes that they could ship him off at the trade deadline.   
Sadly, neither idea has worked.
While Figgins seems to be stuck in limbo, neither worthy of playing time or release, what can be said of Ichiro? 
Fact is, we should have known better from the start that the move to the No. 3 spot would never work.  With slap singles in the place of homers, the Mariners never did get the multi-faceted Ichiro we were promised or had at least hoped for to help drive in runs.
So, is he done as a ballplayer?
If yesterday's two home runs offered us any hint, the answer is no. 
However, I have a hard time believing that he's the force of nature that both players and fans in Seattle have grown to love over the past decade.  
Through two months of baseball, what we've seen is a ballplayer that is neither here nor there. 
Yes, he leads the team in hits and steals.  He also has the team's second-highest batting average.  But let's not ignore the fact that he's done this while playing virtually every day on a ballclub with a slew of youngsters fighting for playing time. 
Yet, if you looked at Ichiro's stats while replacing his name with, say, Trayvon Robinson, would you believe he'd done anything to really distinguish himself this season outside of having stolen a few bases?  Would you think he was a genuine starter or one of several youngsters fighting for a job? 
It's hard to say, but it's unlikely you'd consider him an essential cog in the lineup. 
So, for Ichiro right now, it doesn't matter whether he bats first, second, third or ninth for the Mariners; he's going to be equally effective or ineffective depending on how you look at the situation.  And that's the problem...in both the immediate sense and arguably in the long-term as well. 
If Ichiro were playing poorly, it would be easier to bench him periodically and figure this was the end of the line for a truly great player. 
Instead, though, Ichiro is managing to hold his own in a lineup that sorely needs any help it can get most nights. So we're going to have to live with Ichiro scraping out singles in the leadoff spot the rest of the way this season, with numbers that will probably rival those from last season. 
From a fan's perspective, it's not tragic, especially when he can seemingly flip a switch like yesterday. But for a team that needs to be looking towards the future, it's a big concern.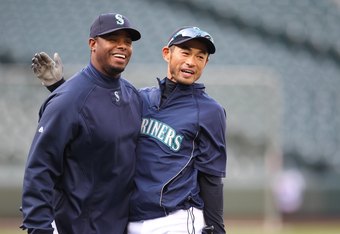 Otto Greule Jr/Getty Images
Ichiro playing every day likely stunts the development of another young player waiting in the wings who could benefit from a chance to play every day.  Beyond that, what happens if Ichiro wants to return once his contract expires after this season?
Will ownership consider bringing Ichiro back if he manages to stay healthy and play at a level consistent with the past season-plus?
Sorry, but I hope the answer is no. 
After this season, both the Mariners and Ichiro need to part ways.  It's not to say that Ichiro is done as a player, but he's incapable of being dangerous as an MLB player and simply doesn't fit anymore in Seattle.  If the Mariners can play this way with him, they certainly can do no worse without him.  
For now, I will try to enjoy Ichiro in the same way I enjoyed Ken Griffey Jr. upon his return to the M's in 2009: keeping expectations to a minimum by assuming that, about once every seven to 10 days, we'll get to see something that makes us smile—while also knowing that the gaps in between are part of the deal as well. 
Let's just hope that, unlike Junior, Ichiro doesn't try to force the issue one year too many by getting management to believe he has enough magic left in his bat to sign him again.