Johan Santana No-Hitter: The Culmination of a Long Road Back
June 2, 2012

Mike Stobe/Getty Images
On Friday night at Citi Field, New York Mets fans were treated to something never seen before in franchise history—a no-hitter.
After 50-plus years and 35 near-miss one-hitters, Johan Santana finally broke the long drought with a 136-pitch performance that required the help of a sensational play in left field and a blown call by a third-base umpire.
Mike Baxter's terrific catch against the left field wall off a ball hit by St. Louis Cardinals catcher Yadier Molina saved the no-no for Santana, who had previously been aided by third base umpire Adrian Johnson, who just one inning earlier clearly blew a call on a line drive hit over the third base bag by former Met Carlos Beltran.
Replays showed the ball hitting the foul line, but Johnson, nonetheless, called it foul, keeping alive Santana's no-no bid.
For Santana, it had to feel like all the hard work he has put in over the last 18 months was worth every agonizing minute of rehab.
Back in September 2010, Santana was facing questions about his future in Major League Baseball.
On Sept. 2, Santana left a game after throwing five innings and, within days, was facing a diagnosis that was daunting to say the least. Santana had suffered a torn anterior capsule in his left shoulder and would require a very difficult surgery at the Hospital for Special Surgery in Manhattan.
The surgery itself was delicate—because of where the tear occurred. An arthroscope could not be used, and surgeons were forced to make an incision directly inside the tear itself in order to repair it.
Incisions like that generally cause scar tissue, making Santana's rehabilitation time that much longer than normal arthroscopic surgery. While the surgery was deemed a success, Santana was still facing at least a year of recovery time at the very least.
For a two-time Cy Young Award winner, Santana would have been excused if he let doubt creep into his mind about his recovery and about his effectiveness upon his return.
Yet, Santana remained steadfast throughout, working hard and doing everything humanly possible to work his way back to form.
In fact, all looked good last July when Santana made his first rehab start for the Class-A Port St. Lucie Mets, throwing three scoreless innings with a fastball hovering between 88 and 92.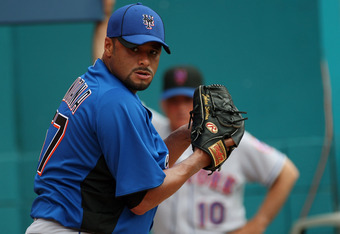 Sarah Glenn/Getty Images
However, just days later, Santana was shut down again, with doctors citing "fatigue." Again, no one would have faulted Santana for walking away. But again, he was undaunted.
When spring training started in Port St. Lucie, while Mets fans were still bemoaning the loss of free agent shortstop Jose Reyes and the financial difficulties for Mets' ownership, Santana reported to camp full of optimism and hope.
And fans hoped for the best as well.
Santana pitched so well during Grapefruit League games (3.44 ERA in five starts covering 18.1 innings) that the Mets rewarded him with the Opening Day start.
While Santana didn't factor in the decision in the Mets' 1-0 victory over the Atlanta Braves, the signs were indeed encouraging—five innings, no runs, two hits and five strikeouts.
After 18 months, Santana was back and looking sharp. But would it last?
Back in April, Santana's durability was indeed a topic of conversation.
Mark Mulder and Jason Schmidt, two pretty good pitchers in their own right, were forced to retire after being unable to return from shoulder woes. Former Cy Young award winner Brandon Webb hasn't thrown a pitch since April 2009 for the same reason.
No one would have been out of line by thinking Santana would eventually break down.
But yet again, Santana remained undaunted. Through May 21, Santana was only 1-2 through his first nine starts, yet with a 3.24 ERA and 53 strikeouts through 50 innings, Santana was proving that any doubts about his durability weren't warranted.
On May 26, Santana made another "statement," throwing a four-hit shutout against the San Diego Padres.
And now, on Friday night, Santana made the ultimate statement.
Call it a "Jo-No," call it a "No-Han," call it whatever you want, but for Santana, it represents much more than any previous accolade.
He made it all the way back. And for Mets fans celebrating the franchise's Golden anniversary, Santana was indeed golden on Friday night.
Doug Mead is a featured columnist with Bleacher Report. His work has been featured on the Seattle Post-Intelligencer, SF Gate, CBS Sports, the Los Angeles Times and the Houston Chronicle. Follow Doug on Twitter, @Sports_A_Holic.