NHL Trade Rumors: Bruins Should Trade Tim Thomas After Latest Report
June 1, 2012

Patrick McDermott/Getty Images
The time has come for the Boston Bruins to trade goaltender Tim Thomas after Pierre LeBrun of ESPN.com has reported that the two-time Vezina Trophy winner is thinking about not playing NHL hockey next year.
A source told ESPN.com on Thursday that the 38-year-old Boston Bruins netminder was contemplating taking next season off. Which doesn't mean he will, but it's something he's apparently raised.

Thomas has one year left on his contract that pays him $3 million, although his cap hit is $5 million. His no-trade clause lifts July 1.
After reading this report, it's clear that the Bruins and Thomas need to part ways.
The relationship between the Bruins and Thomas took a bizarre turn for the worst when he refused to join the team at their White House celebration in January. After that decision, Thomas seemed to fall from his perch atop Boston sports. No longer was he the guy you couldn't criticize.
The decision to consider trading Thomas is made a bit easier when you consider that it's time for young goalie Tuukka Rask to take over the starting job next season.
There's absolutely no reason for the Bruins to make him play the role of backup when he's ready to be a starter on a championship-caliber team. Anton Khudobin is capable of being a fine backup to Rask next season as well.
When the Bruins signed Thomas to a four-year, $20 million contract in the summer of 2009, many fans thought the team had overpaid for him. Well, three straight playoff appearances and a Stanley Cup championship later, it's safe to say the Bruins got their money's worth.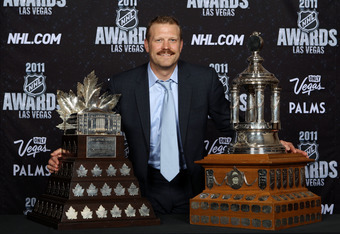 Bruce Bennett/Getty Images
After the Bruins' disappointing exit in the first round of the playoffs and Thomas' White House ordeal, many fans have come to the realization that Thomas' departure wouldn't be bad for the team.
At age 38, Thomas' best days are certainly behind him. If the Bruins can get some good value for him then they must pull the trigger on a trade.
They have several issues to address in the offseason. One of them is adding a forward to help the team's struggling power play. If a team wants to give up a top-six forward for Thomas, Boston should seriously consider it.
Thomas had a great run in Boston, but all good things must come to an end. The time for the Bruins and Thomas to part ways is now, and it's best to do so before the situation gets any worse.
Nicholas Goss is a Boston Bruins Featured Columnist for Bleacher Report and has covered the team firsthand since the 2010-11 season. He was also the organization's on-site reporter for the 2011 Stanley Cup Final in Boston.