Euro 2012 Players to Watch: Andriy Shevchenko of Ukraine
May 31, 2012
Richard Heathcote/Getty Images
In his heyday, Andriy Shevchenko was a striker who struck fear into the hearts of defenders around the world. From 1997 to 2006, Shevchenko picked up numerous individual honors and even came third in the World Player of the Year selection in 2004.
But at the age of 35, Shevchenko's glory years are well behind him, and he'll serve as more of an inspirational leader for Ukraine at Euro 2012 than as their main danger-man or goal threat.
Still, any team would be foolish to disregard Shevchenko throughout the tournament.
Even though injuries have limited his playing time with Dynamo Kiev, he still boasts a solid strike rate and has adapted his game to create opportunities for his teammates if he can't finish them himself.
In Numbers
Shevchenko is his country's all-time leading scorer with 46 goals, only second to Bayern Munich defensive midfielder Anatoliy Tymoshchuk in terms of caps (106 to Tymoshchuk's 115).
There was a time in Shevchenko's international career when he could not be stopped. Between 2000 and 2001, Shevchenko scored 11 goals in 12 international matches.
Most of these came during 2002 World Cup qualifying, a campaign which ended in disappointment when Ukraine lost to Germany in the playoffs.
More recently though, Shevchenko's goal-scoring for club and country has dried up a bit, as he has scored only three goals in 11 matches for Ukraine over the last two years and ended this year with six goals in 16 league matches during a rather injury-hit campaign.
Laurence Griffiths/Getty Images
He did, however, record two goals and two assists in the final four matches of the season.
What to Expect
Oleh Blokhin, Ukraine's national team manager, has elected to utilize Shevchenko as an impact substitute in Ukraine's last two international frendlies, and that could be the role Shevchenko plays at Euro 2012.
Ukraine's options up front are rather confusing.  
Artem Milevskiy seems to stand out as the most talented centre-forward, but he's more known for his assists than his goal-scoring and hasn't been selected as a starter in Ukraine's last two international matches.
Meanwhile, Andriy Voronin has been the attacker taking Milevskiy's place as a starter, but he's been absolutely awful for Dynamo Moscow since the restart of the season and has been called up more on reputation than on form.
At the tip of the 4-2-3-1, which is the formation Ukraine will likely utilize at Euro 2012, Ukraine have experimented with Marko Devic and Yevhen Seleznyov, but neither striker has netted with much consistency.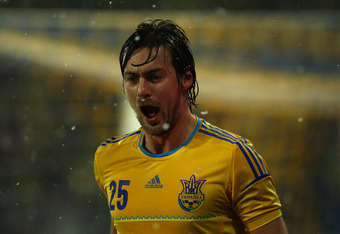 Richard Heathcote/Getty Images
If Blokhin gets fed up with both Devic and Seleznyov's inconsistency, Shevchenko may start at the tip of Ukraine's 4-2-3-1. If he remain's cautious or doubtful of Shevchenko's ability to compete for 90 minutes, he may elect to keep playing him as a substitute.
What They Say About Him
Former Chelsea striker Andriy Shevchenko, of High Barnet, London, says there is "no real problem" with racism in Ukraine.

— John Brewin (@JohnBrewinESPN) May 29, 2012
ESPN's Senior Editor John Brewin is one of many who have been left a bit perplexed by Andriy Shevchenko's declaration that Ukraine don't have a serious racism problem, contrary to one eye-opening documentary.
Andriy Shevchenko Will be playing in the #Euro's again .... Must be coming towards the end of his career

— Ryan Whitmarsh (@19Ryan92) May 31, 2012
Ryan Whitmarsh believes this will surely be Shevchenko's final major tournament, which I can't disagree with, given how old he is now.
On This Day in 2006: #Chelsea broke the English transfer fee record when they signed Andriy Shevchenko from #AC Milan. twitter.com/shirtboutique/…
— FSB (@shirtboutique) May 31, 2012


Finally, FSB takes us down memory lane to remind us that Chelsea broke the English transfer fee record when they signed Shevchenko six years ago. Now, they're reportedly lining him up to be their striker's coach next season.
To close, here's a reminder of just how great Shevchenko was over the course of his career:
Will he be able to roll back the clock in Ukraine and Poland this summer?