Best-Case Scenario for the Buffalo Bills in 2012
May 30, 2012

Al Bello/Getty Images
A 19-0 record is the best-case scenario for every NFL team. But it's not a very realistic scenario for any team.
While the minds of NFL fans hibernate throughout the offseason and have dreams of Super Bowl appearances for their team, 30 fanbases will be disappointed come February 3, 2013. 
For the Buffalo Bills specifically, though, a Super Bowl could be the best-case scenario in 2012, and it could also be a realistic one. It would take a few small miracles and a few more January miracles, but even as a Wild Card team, the Bills could make a push under the right circumstances.
Coming off a 6-10 finish in 2011, the Bills cooled off after a hot start thanks to a confluence of circumstances that saw the team injured at several key offensive positions: quarterback Ryan Fitzpatrick nursed rib injuries, running back Fred Jackson finished the season on injured reserve and the Bills' offensive line depth was depleted by season's end.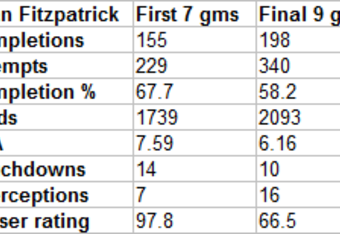 We'll start with Fitzpatrick, whose 2011 season was a beauty in the first seven games before it became a beast come Week 9. The Amish Rifle has yet to put together a 16-game season in which he performed consistently from start to finish. It looked like he might do that in 2011, but injuries played a role as they took their toll on the Bills' roster.
One reason for his struggles was a lack of depth on the offensive line, a unit which has since been fortified with several key additions. Adding offensive tackles Cordy Glenn and Zebrie Sanders through the draft gives them more talent to rely on if they're faced with another hairy situation where injuries creep up once again.
Losing the oft-injured left tackle Demetress Bell cost them their Week 1 starter from 2011, but there's confidence around sophomore tackle Chris Hairston's ability to hold down the left side.
And I'm sure Fitzpatrick will be glad to be taking snaps from center Eric Wood once again in 2012. 
Despite all the injuries and flux, the Bills gave up just 23 sacks in 2011, the lowest total in the NFL, at a rate of just 3.8 percent, the second-lowest behind only the New Orleans Saints.
With all the improvements on the line, though, the Bills are still missing an explosive threat in the passing game. Wide receiver Stevie Johnson is a solid option, but he's not going to blow the top of a defense, and the same can be said for David Nelson.
The Bills may have done themselves a huge favor by adding T.J. Graham to at least provide one option for a deep threat, but that's assuming he is a contributor in Week 1. History says that probably won't be the case, but if he can contribute early, the Bills will be a much better offense for it.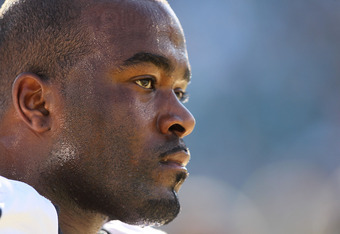 Mike Ehrmann/Getty Images
And oh, yeah, they made a few pretty solid additions on defense, too.
After sacking quarterbacks just 29 times in 2011 (29th in the NFL) and allowing a 90.4 passer rating (26th), the Bills could improve by leaps and bounds with the new-look 4-3 and newly added defensive ends Mario Williams and Mark Anderson. 
Plug those two power cords into the ends, and with Marcell Dareus and Kyle Williams in the middle, that could be one of the best defensive lines in football.
The Bills have improved drastically at so many positions, it's a stretch not to call them a contender for a Wild Card spot. It's a stretch to predict them as division winners over the New England Patriots, but a best-case scenario for the Bills could also involve a worst-case scenario for the Patriots if they were to struggle, as many teams have after a Super Bowl appearance.
In either case, there are always teams that turn it around from one season to the next. Taking into account the reason for their struggles in 2011 as well as the major offseason moves, the Bills could be that team in 2012.
But even if not, while their improvement may not be immediate, it is implied. 
Erik Frenz is the AFC East lead blogger for Bleacher Report. Be sure to follow Erik on Twitter and "like" the AFC East blog on Facebook to keep up with all the updates.