Alabama Football: Players Who Must Step Up for Crimson Tide to Repeat as Champs
May 28, 2012

Ronald Martinez/Getty Images
After hoisting the BCS National Championship trophy for the second time during his tenure at Alabama, Nick Saban sat down in April and watched as five key players were drafted within the first 35 picks of the 2012 NFL Draft. This included four stars on what was widely regarded as one of the best defenses in college football history.
With the top recruiting class in the nation coming into Tuscaloosa, talent won't be an issue for the Crimson Tide in 2012. However, with all three captains (Trent Richardson, Dont'a Hightower and Mark Barron) leaving in the draft, team leadership could set the preseason's No. 3-ranked Tide back a little.
This is usually evident early in the season, and they will be tested early on Sept. 1 when they travel to Cowboy Stadium to take on a hungry No. 10 Michigan team.
Here are four Alabama players who need to step up for Saban's crew to repeat as National Champions in 2012.
QB AJ McCarron, JR
After playing perhaps the best game of his college career in the BCS title game against LSU, AJ McCarron returns as the signal-caller for the Crimson Tide in 2012.
With Trent Richardson gone and several unproven playmakers around him, the focus for opposing defenses will now primarily be on McCarron.
He does have the luxury of perhaps the best offensive line in the nation, led by Rimington Award-nominee Barrett Jones, but there will be a lot of pressure for McCarron to take charge of an inexperienced offense that will be expected to score more often than it did last year.
However, there may not be a better quarterback in the nation suited for the job. All McCarron did in his rookie season was win a National Championship and prove that he can make the big throws in high-pressure situations. The Crimson Tide will be relying heavily on him to guide the offense through the treacherous road that is the SEC.
If AJ McCarron can progress as greatly as he did in 2011, we could see him make history in providing Alabama with its second consecutive National Championship.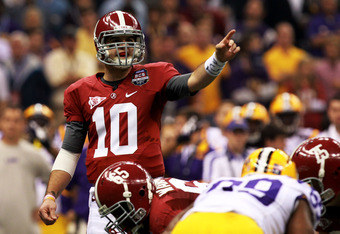 Ronald Martinez/Getty Images
LB Adrian Hubbard, RS SO
At 6'6", 248 lbs., Hubbard is a monster at outside linebacker, although he will have big shoes to fill in replacing Courtney Upshaw.
The redshirt sophomore couldn't have gotten off to a better start as he was named the Defensive MVP of A-Day, registering a team-leading seven tackles and three sacks.
He has earned constant praise throughout the spring from Nick Saban and defensive coordinator Kirby Smart, and he will be expected to bring the outside pass rush that has been a staple of the Alabama defense the past couple years.
Perhaps the biggest vote of confidence came, however, came from Upshaw himself in an interview with TuscaloosaNews.com. "He's going to be a dominant player here, guarantee it," Upshaw said. "Explosive, speed, power — everything."
The Crimson Tide lost a lot of talent and experience on the defensive side of the ball, but if Hubbard can take his spring success into the 2012 season, the SEC will have a hard time moving the ball once again.
LB Nico Johnson, SR
After playing in almost every single game since he came to Tuscaloosa, Johnson will be the defensive captain and mike linebacker in the middle of the Alabama defense. Having been an integral part of two National Championship defenses, the responsibility will fall on his shoulders to lead a young, but talented defense against the best the SEC has to offer.
Johnson has the luxury of being groomed for this job by former Crimson Tide standouts Dont'a Hightower and Rolando McClain.
While Johnson has been quietly productive in taking a backseat to those linebackers of the past, it is important that Johnson not only continue that production on the field but also become a vocal force in the locker room—a leader that Nick Saban can rely on.
If Johnson can take charge of this talented defense the way Hightower and McClain did in the past, Alabama's National Title hopes won't miss a beat.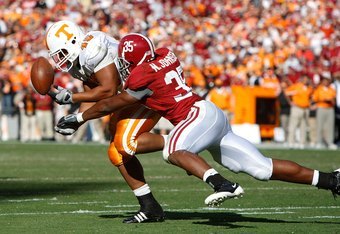 Kevin C. Cox/Getty Images
S Robert Lester, SR
While the linebackers often get a lot of the attention at Alabama, it was the secondary last season that led to the Crimson Tide having one of the best defenses in recent memory.
Now that Mark Barron and Dre Kirkpatrick have become first-round picks in the NFL, it is up to the Tide's most experienced defensive player, in Lester, to head the defensive backs.
Lester has started every game for Alabama in the past two seasons and has 10 career interceptions.
While there will be several new faces in the secondary, their experience level will actually be relatively high compared to the rest of the defense. Vinnie Sunseri played a considerable amount last season and should team up with Lester at the safety position, while Dee Milliner started six games at cornerback in 2011, and JUCO transfers Deion Belue and Travell Dixon will fight for playing time.
Saban and coordinator Kirby Smart will be relying on Lester to be the leader of the secondary that Barron was for last year's championship defense.
If the fifth-year senior can do just that, there's a good chance the Crimson Tide will be playing for another National Championship in January.