Cincinnati Reds Rock the Colorado Rockies, Remain the Hottest MLB Club
May 27, 2012

Andy Lyons/Getty Images
The Cincinnati Reds arrived home from New York to begin a seven-game homestand with a record of 21-19 and in second place in the NL Central.
The Redlegs just wrapped up that homestand on Sunday, powering past the Colorado Rockies with a 7-5 win. Going 6-1 in total against the Atlanta Braves (four-game sweep) and Colorado Rockies (winning two of three games), the Reds are leaving town with an overall record of 27-20 and as the NL Central leader.
After clubbing their way through Sunday's rockin' win over the Colorado Rockies, the Reds are 23-12 in their last 35 games since starting the season 4-8. This is the best record in all of Major League Baseball during that span.
The numbers don't lie, and this team has been playing winning ball for a while. So, it should be of no surprise to us that the ol' ballclub is standing where it stands today—in first place.
What might surprise you, though, is how they have gotten there.
Cincinnati seems to be sending a new star to the postgame show each night.
Drew Stubbs (two HR) and Mike Leake (8 IP, 1 ER, 3 H) rang the bell on Monday. It was Brandon Phillips (two HR) and Mat Latos (7 IP, 2 ER, 8 K) on Tuesday, taking down Brandon Beachy and his league-leading ERA. Todd Frazier sent the Reds home on a walk-off home run Wednesday, followed by Devin Mesoraco's grand slam on Thursday.
You can see a trend forming here, and that trend continued its way through the weekend against the Rockies.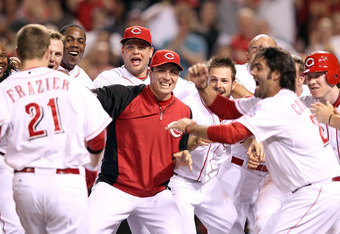 Andy Lyons/Getty Images
The Cincinnati Reds are winning as a team. When they have needed someone to step up, someone has.
With rookies contributing on a regular basis, Gold Glove-caliber defense being played all around, the bats heating up (along with those thermometers outside) and a consistent pitching staff, the Reds are one of the hottest, if not the hottest ball club in all of baseball.
The team begins a six-game road trip on Monday in Pittsburgh before heading to Houston for a three-game stop in each city. 
Notes for the Week Ahead
Since sitting out Friday night's game against the Rockies, Jay Bruce produced a home run, a double and a couple of RBI over the weekend. Keep an eye on him to see if he can continue to break out of his slumping ways. Houston is usually pretty good to him.
Johnny Cueto gets a chance to redeem himself in Pittsburgh on Wednesday after being driven out of his previous start in four-plus innings on Friday. His last outing in Pittsburgh back on May 5 yielded a complete game, as he gave up one run on seven hits to the Pirates.
The Houston Astros are 13-10 in the month of May through Sunday. They are a young but talented crew, and the Reds should not take them lightly.