Butler Basketball: Can Rotnei Clarke Shoot the Bulldogs Back into the Top 25?
May 28, 2012

Rotnei Clarke is one of the best three-point shooters in college basketball.
In three years at Arkansas, Clarke hit 274-of-653 (42 percent) shots from beyond the arc.
Two-thirds of his shots from the field were three-point attempts.
It's no big surprise that Clarke has also been a sharp-shooter from the free throw line, knocking down 86.3 percent of his FTs.
He led the Razorbacks in scoring (15.2 ppg) as a junior, and grabbed national media attention for dropping 13 threes on Alcorn State (scoring 51 points) as a sophomore.
At the conclusion of Clarke's junior season, Arkansas fired their head coach, John Pelphrey, and hired Mike Anderson as his replacement.
After some drama surrounding whether or not Clarke was going to remain a Razorback, he decided to transfer to Butler.
Brad Stevens' Bulldogs had a solid 2011-12 season, posting a 22-15 mark, but just about anything would have been a disappointment for a program that played in back-to-back NCAA Championship games.
Looking toward the 2012-13 season, a question hangs over the program: Is Clarke the missing piece for Butler to get back into the national conversation?
Stevens' roster is filled with talent and experience.
Of the nine players who logged double-figure minutes for the Bulldogs, only Ronald Nored does not return.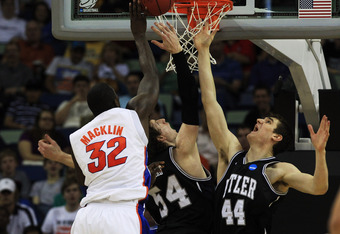 Streeter Lecka/Getty Images
With almost everyone coming back, Butler retains 88 percent of their scoring and rebounding.
But, one of the aspects of the game that Stevens' 2011-12 squad struggled with was shooting, especially long-distance shooting.
As a team, Butler shot a frosty 28.1 percent from beyond the arc.
They didn't even make enough three's (5 per game) to qualify for the NCAA Three-Point Field-Goal Percentage stat for teams.
The Bulldogs weren't much better inside the arc, shooting 40.8 (No. 288 in the nation).
If Stevens can effectively insert Clarke into the mix, Butler could be a very pesky team to deal with come March Madness 2013.
And the senior Clarke may not have to carry all of the Bulldogs' three-point shooting load.
Stevens is also bringing in a four-star 6'5" SG (Kellen Dunham), who ESPNU says that he "goes about his business (like a) master craftsman applying his trade."