College Basketball: Can Danny Manning Become a Great College Head Coach?
May 27, 2012

Jamie Squire/Getty Images
Danny Manning was a great college player.
He led the Kansas Jayhawks to the 1988 NCAA Championship, and was selected as the Final Four Most Outstanding Player.
Manning was voted the Big 8 Player of the Year three times (1986-88) and the Naismith and Wooden Awards winner his senior season (1988).
He followed up his stellar collegiate hoops career with 15 outstanding years in the NBA. 
After retiring from the Association, Manning served on Bill Self's staff at KU for the last nine years:
Director of Student-Athlete Development/Team Manager (2003-2007)
Assistant Coach (2007-2012)
Manning did a little of everything at Kansas.
During this time, Manning learned the game that he had excelled at as a player from a completely different angle.
Rather than trying to jump straight from being a player to being a head coach, Manning invested the time and effort in preparing himself for what he would have to do to lead his own program.
He handled day-to-day administrative operations, went on the road to recruit, as well as passing on his vast experience as a player.
ESPNU's Jason King stated:
"Since joining Kansas' staff in the spring of 2003, Manning has helped the Jayhawks program become one of the best in the nation at developing post players. Lately the school has even been referred to as "Big Man U."

Since Manning began providing tutelage nine years ago, only two Kansas post players who started at least 50 percent of the team's games in a single season have failed to be selected in the NBA draft."
Because of his time under Self, Manning now knows the ins-and-outs, the nuts-and-bolts of running a major college basketball program.
As he begins his tenure as the head coach at Tulsa, Manning can hit the ground running.
He can focus on elevating a program that has had decent success over the last few years. The Golden Hurricane has won at least 20 games in each of the last four seasons, but has not made the NCAA tournament since 2003.
Manning is already seeing some good results on the recruiting trail.
Since being hired, he has secured commitments from Pat Swilling (see video), a talented Juco player from the College of Southern Idaho; Kauri Black, a graduate transfer from Northeastern; and Rashad Ray, an all-state guard from Louisiana.
And the cupboard was not bare in Tulsa. The Golden Hurricane returns four of their top five scorers from last year's team.
With his background as a player and experience as a top-level developer of talent as an assistant coach, Manning is on his way.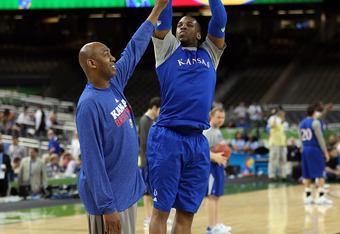 Jeff Gross/Getty Images
Mark my words: Danny Manning will be a success at Tulsa and will be in a power conference job in three years or less.