Crowne Plaza Invitational at Colonial 2012: Tee Times, Date and TV Schedule
May 23, 2012

Darren Carroll/Getty Images
After his big win at the HP Byron Nelson Championship, Jason Dufner will compete with Hunter Mahan to become the first member of the PGA Tour with three wins this year.
The action will go down in Fort Worth, Texas, at the Colonial Country Club, a par-70, 7,204-yard course that ranks 22nd among the 51 most difficult courses played on the tour in 2011, according to SportsNews.com. Although it's not the longest course, it requires a certain finesse to navigate the tight fairways, so winning here will be no easy task. 
Joining Dufner and Mahan at the event will be a host of other big names who just might be poised for victories including Matt Kuchar and Rickie Fowler, who battled it out at the Players Championship a couple of weeks ago. But with Zach Johnson, Geoff Ogilvy and defending champion David Toms also joining the fray, it's really anyone's game. 

Where: Colonial Country Club in Fort Worth, Texas. 
When: Thursday, May 24 to Sunday, May 27

Golfers to Watch

Jason Dufner
Coming off a big win on the 18th hole at the Byron Nelson just a few days ago, Dufner will attempt to become the first PGA Tour member to tally three wins this year. The win on Sunday wasn't without pressure, either: He birdied holes 16 and 18 in order to escape with a one-stroke win. His other victory this year came in New Orleans in April. 
The patience it took to slowly but surely get the job done at the Byron Nelson will certainly come in handy in a field crowded with talent at the Crowne Plaza Invitational. Though he's been able to at least hang in there atop the leaderboard in many a tournament, Dufner has sometimes struggled to maintain his position in crunch time, and he'll need to stay patient and calm to keep the challengers at bay this weekend. 

Rickie Fowler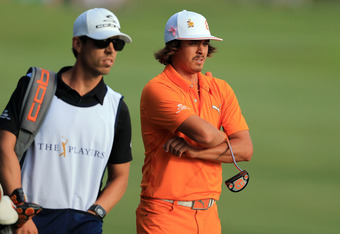 David Cannon/Getty Images
The best-dressed man in golf currently ranks ninth in the FedExCup Standings and seventh on the Money List, and he's having a decent month after winning the Wells Fargo and the finishing in a second-place tie at the Players Championship.
Last year at the Crowne Plaza Invitational, Fowler shot a 63 in the opening round, but struggled the rest of the way, finishing 16th. Still, he's riding a hot streak right now and has proven he can play well on this course; he just needs to stay consistent.

Zach Johnson
He currently boasts 15-1 odds to win, according to SportsNews.com, and has one of the best track records at the course. He won the tournament in 2010 and finished fourth last year. He hasn't been playing too shabby as of late, either.
In 12 starts this year, Johnson has registered six finishes in the Top 25, and he's had two second-place finishes in his last three starts. Aside from Dufner, he might be riding the most momentum of anyone, and he's historically successful at Colonial.

Tee Times
Notable Groupings for Opening Round and Second Round (All Times ET)
| | | | | |
| --- | --- | --- | --- | --- |
| Thursday   | Friday   | Golfer   | Golfer   | Golfer   |
| 7:43 a.m. | 12:18 p.m.  | David Toms | Zach Johnson | Sergio Garcia  |
| 12:18 p.m. | 7:43 a.m. | Jason Dufner | Matt Kuchar  | Rickie Fowler |
| 12:29 p.m. | 7:54 a.m. | Hunter Mahan | Louis Oosthuizen | Vijay Singh |
| 7:54 a.m. | 12:29 p.m. | George McNeill | Mark Wilson | Geoff Ogilvy |
| 8:38 a.m. | 1:13 p.m. | Dicky Pride | Keith Clearwater | John Mallinger |
You can find a full list of tee times and groupings at PGATour.com.
Television Schedule
| | | | |
| --- | --- | --- | --- |
|   | Date | Time (ET) | TV |
| Round 1   | May 24 | 3 - 6 p.m. | GOLF  |
| Round 2 | May 25 | 3 - 6 p.m. | GOLF |
| Round 3 | May 26 | 3 - 6 p.m.  | CBS |
| Round 4 | May 27 | 3 - 6 p.m.  | CBS |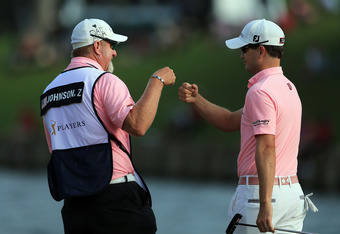 David Cannon/Getty Images

Prediction: Zach Johnson Wins
He's been too good lately to ignore and not only is he heating up right now, but he's good enough at this course to rise above the rest. He's been so close but not quite there for long enough. He has to get that first-place finish eventually, and it makes sense that it would come at Colonial.