Chelsea Transfer News: Blues Can't Afford to Wait on Eden Hazard
May 22, 2012

Valerio Pennicino/Getty Images
The winds of change are whipping around Stamford Bridge, and Chelsea can ill-afford to twist in them while Eden Hazard makes up his mind.
According to ESPN Soccernet, the spectacular attacking player for Lille told Canal+ that Chelsea is on his shortlist of clubs to which he might like to jump, due in part to the Blues' success in the UEFA Champions League:
"That's possible. But until I pen to paper I won't say where I'm going.

"Of course it makes you think as Chelsea have won the Champions League. They're a big team and will be playing in the Champions League next season. They have great players and I always said I wanted to be playing. I think there is the possibility to play as well.

"I still don't know [which club I will join] yet, otherwise I would have announced it today. Nothing is done yet but it will happen soon."
Hazard is expected to choose between Chelsea, Manchester City and Manchester United, with Arsenal on the outside looking in, at some point this summer.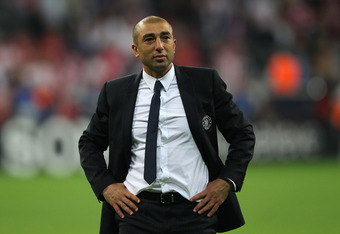 Alex Livesey/Getty Images
In the meantime, chairman Bruce Buck and chief executive Ron Gourlay have bigger (and significantly older) fisher to fry.
First, they, along with team owner Roman Abramovich, must rule on the future of caretaker manager Roberto Di Matteo. The former Chelsea player led his former club to a surprising double, with titles in the FA Cup and the Champions League, after taking over for Andre Villas-Boas in March.
However, as sources told The Daily Star, Abramovich isn't convinced that RDM is the best man for the job going forward:
"Roman thinks Di Matteo has been very, very lucky and that he made a lot of mistakes in the games he's been in charge, with his tactics and selections. The statistics in the two games against Barcelona and the final show just how lucky Di Matteo was. Roman has to decide this week and he will not care what the public thinks. Roman did not become a billionaire worrying about public opinion - he only cares about what is right for the club."
When it comes to managerial changes, Roman (usually) gets what Roman wants. Hence, the seven managers who've been sacked since the rich Russian took control of the club in June of 2003. Whether RDM becomes the eighth, and who might fill his place thereafter, is anybody's best guess.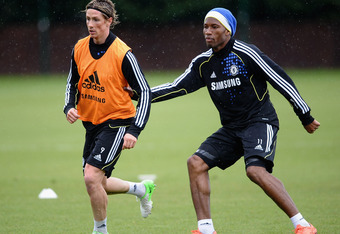 Laurence Griffiths/Getty Images
As far as the squad itself is concerned, Chelsea are hard at work trying to quell concerns about two of their biggest names (Didier Drogba and Fernando Torres) bolting from Stamford Bridge.
Drogba announced on his website that he'll be leaving the club as soon as his contract comes due, while Torres suggested during an interview with Spanish journalist Guillem Balague after the Champions League final that he's unhappy at Chelsea.
But Ron Gourlay (not to be confused with Robert Goulet) told Chelsea TV that he and the club are anything but ready to concede their departures:
"Conversations with Didier have been going on for months and still are. He's made it clear he loves Chelsea and loves everything he's achieved at the club. Once we're ready to make an announcement, we'll do so.

"Torres came on when we were behind and played a big part to help us win the Champions League. I'd be surprised if Fernando, who's been awesome, didn't want more time on the field, every player does.

"It was the biggest game in our history so there were different levels of emotions all over the pitch - you have to take these things into account."
Indeed, there is plenty for the Chelsea brass to take into account after the Blues' miraculous double. Do they try to preserve the group that delivered to Roman the trophy he'd sought for so long, or do they reload with a new crop of pricy, young talent?
At the end of the day, though, that decision may not be theirs to make. Rather, their fate, in the end, could be left up to the whims of a 21-year-old Belgian as much as those of a 28-year-old Spaniard and a 34-year-old Ivorian.
Not to mention a 55-year-old Soviet smuggler.