Penn State Football: How Nittany Lions Will Shock the Big Ten in 2012
May 22, 2012

Justin K. Aller/Getty Images
Nobody knows what to make of Penn State heading in to the 2012 season—now 100 days away and counting—but perhaps that is their greatest asset.
This year, Penn State is expected by many to try a new offensive scheme, and after 40 years and change of an offense based off of run-run-pass, it would seem that nobody will know exactly what to expect, or how to handle what the Nittany Lions try to do. Granted, the offense will revisit two significant offensive themes from the past year. Penn State will focus on putting the football in the hands of Silas Redd, and the quarterback position remains a mystery.
If Bill O'Brien truly has a grasp on what he wants to do under center—be it Matt McGloin or Paul Jones—then the work can begin on ensuring each and every player lining up on offense knows their individual roles when on the field. This is an area that was of great concern a year ago, and the year before that perhaps. If one quarterback is deemed the starter now, then the wide receivers, linemen, and running backs can all get on the same page with offensive rhythm, knowing that one conductor will be setting the tempo.
Patch up these concerns now and the odds of having a successful season in the fall swing dramatically in favor of the blue and white.
What are the expectations for Penn State? Most will suggest eight wins should be expected, others will say nine games. A road loss at Nebraska and a potential home loss to Wisconsin could be written in pencil, and games against Ohio State, Virginia, and Temple (yes, Temple) should be considered toss-ups on the schedule.
Would it be a shock to see Penn State get through September with a 5-0 record? A quick glance would suggest not but this could be one of Penn State's toughest non-conference schedules from top to bottom in years. Ohio, at Virginia, Navy, and Temple will allow little time to be making adjustments, and a road game at potentially rejuvenated Illinois will provide one of the toughest Septembers in recent memory for Penn State.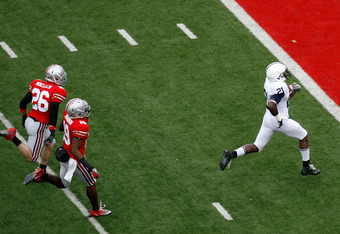 Kirk Irwin/Getty Images
Maybe a 5-0 record would be considered a shock, but a 6-0 record heading in to the bye week will be the goal that is certainly within reach. Coming out of the bye week, Penn State will play at Iowa and host Ohio State. Picking up two wins to put together a record of 8-0, to many, may be unthinkable.
But an 8-0 start could become 9-0 with Purdue next on the schedule. At that point this may not be a shock, but if Penn State could somehow, someway, find a way to leave Lincoln, Neb. with another win, their first since 1981, then people will be shocked.
There is a long way to go before even getting to that point of course, but in order to get there it will all fall on the offense. Penn State's defense will be good enough to put the team in position to win every game on the schedule. It is up to the offense to capitalize.
Will they shock you?
Kevin McGuire is the host of the No 2-Minute Warning podcast, managing editor of Nittany Lions Den and a member of the Football Writers Association of America and National Football Foundation. Follow him on Twitter, like him on Facebook and add him to your Google+ circle.