6 Offseason Moves the LA Clippers Must Make in Pursuit of NBA Playoff Return
May 21, 2012

Kevin C. Cox/Getty Images
Things didn't go exactly as planned for the Los Angeles Clippers—they were swept in the second round of the NBA Playoffs at the hands of the San Antonio Spurs—but the 2012 season was one of the more successful campaigns in Clippers franchise history.
Where do the Clippers go from here in order to be real contenders?
The good news is that with Chris Paul and Blake Griffin already in place, Los Angeles may be only a few pieces away from competing for the Western Conference title.
The bad news is that the Clippers already have $57.7 million tied to seven players (assuming Mo Williams exercises his $8.5-million player option). Also, without a first-round pick in June's draft, the Clippers will have to get creative in order to improve.
With that being said, here's a look at some offseason moves the Clippers must make in order to improve next season.
Sign Kevin Garnett
Having that veteran big man makes all the difference in the world come playoff time. With Garnett at the 5 and Griffin at the 4, the Clippers could suddenly have a dominant front-line with DeAndre Jordan coming off the bench.
With $53.9 million in cap holds, the Clippers would have to free some money by potentially moving Ryan Gomes or another player, but Garnett is a guy the Clippers should aggressively pursue.
KG being able to move opposing centers away from the paint with his range will be big for Griffin operating on the block, and with Garnett running the pick-and-roll with Paul, the Clippers will be very good.
Acquire Trevor Ariza
Ariza is set to make $7.3 million in 2013 with a player option for 2014, money the Hornets would probably want off their books.
The Clippers need a wing player that can be used as a shutdown defender. After all, being able to get a stop in the playoffs is more valuable than any alley-oop highlight play the Clippers can produce.
Again, it may be tricky, but even it involves getting a third team involved, improving their perimeter defense is a must.
Re-Sign Chauncey Billups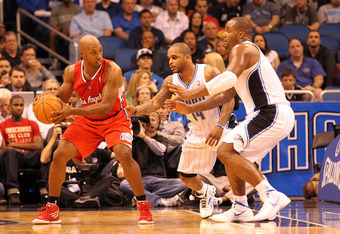 Sam Greenwood/Getty Images
Having the veteran Billups around may have helped during the playoffs, but if he gets healthy, it's an option the Clippers must consider.
Of course, it comes down to money, and a 35-year-old player coming off a major injury realistically shouldn't command a lot of money. But this is the NBA, and someone may be willing to overpay for Billups.
If the Clippers can get him to accept a little over the veteran's minimum, it will be worth doing so. I really liked it when they had two legitimate ball handlers on the floor at the same time early in the season.
Re-Sign Nick Young or Randy Foye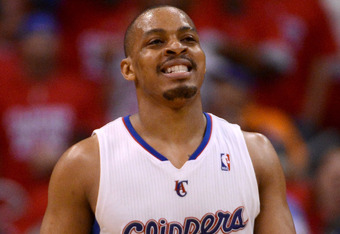 Harry How/Getty Images
Young seems likely to cash in on a bigger deal than the Clippers may be able to offer, but the room exception of two years/$5 million could be used to keep Foye around.
But it would be likely mean asking them to take a pay cut to keep either guy, so that eventually could be doubtful. However, the Clippers must find a way to keep one of them in order to maintain solid backcourt depth.
Re-Sign Reggie Evans
I like Evans and his ability to come off the bench and rebound. The Clippers need frontcourt depth, and guys that do the dirty work—like Evans—are a valuable commodity.
Sign Steve Novak
I had my eyes on a veteran such as Grant Hill here, but he may not be affordable. Finding a way to add a guy such as Novak makes too much sense.
The NBA's leading three-point shooter could have a field day with Paul penetrating the lane and kicking the ball out to him.
It's one thing to find open shooters. It's another thing altogether to have those guys knock down shots consistently. Novak can do that and could become a huge weapon in the Clippers offense.