Lakers Must Trade Andrew Bynum And/or Pau Gasol to Maximize Kobe Bryant's Career
May 26, 2012

Harry How/Getty Images
The Los Angeles Lakers must be blown up, quickly, severely, without emotion and with the singular goal being to build the next great NBA dynasty, period.
Over the past 13 seasons since Kobe Bryant reached superstar level, the Lakers have won seven conference titles and five NBA championships, and the longest they have ever waited in between conference championships was the three-year period immediately after Shaquille O'Neal was traded to the Miami Heat.
While two NBA titles, three conference championships and five playoff appearances in the past five seasons may be considered absolute nirvana for fans of most NBA franchises, or even fans of all franchises not named the Los Angeles Lakers, two straight second-round playoff exits is enough heartache to make most Lakers fans depressed beyond belief.
The Lakers' brass is in for a very, very, very stressful offseason indeed. They simply cannot keep the status quo and the trio of Kobe Bryant, Andrew Bynum and Pau Gasol together for even one more season. This is not a team that simply needs minor adjustments but a team that needs an overhaul.
The Lakers thought that trading for Ramon Sessions and Jordan Hill would be enough to put them over the top. It wasn't. They passed on trading their TPE from the Lamar Odom trade to acquire an upgrade at the small forward spot in the versatile and talented youngster Micheal Beasley, and such thriftiness hurt them.
The Lakers will not have any real money to spend in free agency this season, and while they may be able to bring back Sessions, Hill, Matt Barnes and the young long-range sharpshooter Andrew Goudelock, the only type of players they will realistically be able to add through free agency are average role players or players on veteran-minimum contracts.
Do the names Keyon Dooling, Bill Walker and Shelden Williams excite you? I didn't think so.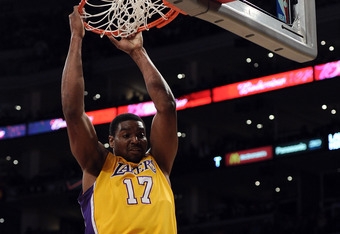 Harry How/Getty Images
If the Lakers could add players such as Kevin Garnett, Steve Nash, Antawn Jamison or Grant Hill, they might feel they could make one last run at a title with their current "Big 3." However, I believe all four of the aforementioned players will command more than the veteran's minimum and that the Lakers have very little chance at signing any of them.
As I see it, the Lakers have two primary options for building the next great dynasty.
Plan A would feature trading Andrew Bynum and/or Pau Gasol to load the team with enough talent to try and win as many titles as they possibly can before Kobe Bryant retires.
Plan B would feature trading both Pau Gasol and the Black Mamba himself for an enormous amount of young talent to surround dominant young center Andrew Bynum for the next decade. This is discussed in a separate article titled, "Kobe Bryant and Pau Gasol Must
Be Traded for L.A. to Build Around Andrew Bynum."
While I could probably write fifty pages of possible trades the Lakers could make, I will keep this article as short as possible and list just a few distinct, realistic and extremely beneficial trades that I believe the Lakers' brass would be wise to consider.
TRADE POSSIBILITIES, Plan A:
Lakers trade Pau Gasol, Metta World Peace, Andrew Goudelock, $3 million cash and future first-round picks in 2013, 2015 and 2017 to the Memphis Grizzlies for Rudy Gay, Zach Randolph and Dante Cunningham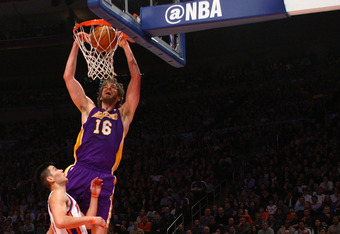 Chris Chambers/Getty Images
The above trade is my favorite by far and should be a no-brainer for the Lakers' brass, despite the added and massive salaries such a trade would bring.
As for the Grizzlies, while most fans might think Memphis wouldn't consider this trade, I disagree. The fact is that Memphis is in a precarious financial position and will have to renounce the rights to O.J. Mayo this offseason. They simply cannot afford him.
This trade simply comes down to whether the Grizzlies' front office would rather spend $35.05 million on a Gay-Randolph-Cunningham trio or $31.4 million on a Gasol-MWP-Mayo-Goudelock foursome with three future first-round picks as well.
Lakers trade Pau Gasol to the Houston Rockets with Luis Scola and Kevin Martin going to the Knicks, and Amare Stoudemire as well as the Rockets' and Knicks' 2012 first-round picks going to the Lakers
The above trade is a simple exchange of Pau Gasol for Amare Stoudemire and two No. 1 picks. These picks could be packaged with Andrew Bynum to land Dwight Howard or even packaged with Metta World Peace and Steve Blake to land a small forward upgrade such as Andre Iguodala or Gerald Wallace in a sign-and-trade deal.
Lakers trade Andrew Bynum to the Golden State Warriors for Andrew Bogut and Stephen Curry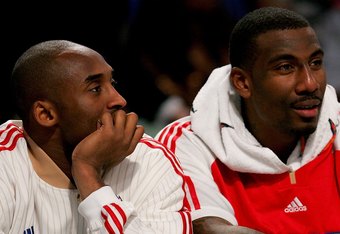 Ronald Martinez/Getty Images
The above trade would certainly make both teams exited and nervous at the same time, as all three of the players involved have injury issues. However, if the Lakers believe that Curry and Bogut can play full seasons and will be in solid health, this trade makes a great deal of sense for them. They would get a defensive-minded center who loves to pass and doesn't need the ball to be effective or happy. In addition, they would get the best point guard the purple and gold has had since Magic Johnson was running showtime.
Lakers trade Andrew Bynum to the Toronto Raptors for Andrea Bargnani, Jose Calderon and their 2012 first-round pick
The above trade would give the Lakers a new starting power forward while moving Pau Gasol to center, a new starting point guard and a solid lottery pick that could be used on a true backup and future starting center such as Tyler Zeller, or a quality starting small forward such as Harrison Barnes. 
Lakers trade Andrew Bynum to the Washington Wizards for Nene and John Wall
If the Lakers feel that Wall is an immediate and massive upgrade at point guard for them and a future superstar, this trade is a no-brainer for L.A.
Lakers trade Pau Gasol to the Atlanta Hawks for Josh Smith, Marvin Williams and the No. 23 pick
The above trade is actually one trade that could be made in both Plan A and Plan B as it not only makes the Lakers better instantly, but it also makes them younger.
All of the above trades would give the Lakers a much better and deeper team to lead and maximize the final years of Kobe Bryant's excellence. They would allow Kobe to best Michael Jordan's six career NBA titles, and return the Lakers to their rightful place as the most dominant franchise in the league.