Liverpool F.C.: History Shows Us the Perils of Appointing Martinez
May 17, 2012

Yesterday afternoon, Liverpool relieved manager Kenny Dalglish of his duties after the club suffered the worst Premier League season in its history. A Carling Cup win was not enough to convince the owners that he was capable of restoring the glory days of Anfield, and now the club must search for its third manager since 2010.
One of the early front-runners for the job appears to be Wigan's Roberto Martinez. The 38-year-old guided the perennial relegation favourites to a 15th placed finish. Those in favour of the Spaniard's appointment also point to the fantastic end to the season Wigan produced, where only champions Manchester City bettered their form. 
However, history shows us that a club of Liverpool's size must always have a manager of equal pedigree in order to compete at the highest level. Barring a miracle, Roberto Martinez, irrespective of his undeniable ability as a manager, is nowhere near ready to take the reigns at Liverpool.
In recent times, we have seen a trend for Premier League clubs to gamble on managers who are untested at the level they are expected to compete at, and barely any of these decisions has worked out well.
The first example that springs to mind is Liverpool's very own appointment of Roy Hodgson before the 2010-11 season. Hodgson had just guided Fulham to the Europa League final, and a season before that had turned them from survival hopefuls to the 7th best team in England. The general consensus for hiring Hodgson was that, given what he achieved at Fulham, imagine what he'd be capable of with players like Torres, Mascherano, Reina and Gerrard.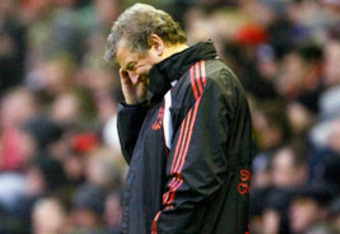 Last season, Chelsea appointed Andre Villas-Boas. Like Hodgson, he had worked wonders for his previous club, F.C. Porto, where he won the league (unbeaten), the Portuguese Cup and the Europa League. The latter accomplishment made him the youngest coach to ever win a continental trophy. Villas-Boas also helped Falcao and, in particular, Hulk, realise their full potential and become internationally-renowned stars. Like Hodgson, people figured that if he was capable of such things at Porto, the sky was the limit with the resources available at Chelsea.
As we learned with these two managers, as well as with Gian Piero Gasperini at Internazionale, Steve McLaren with England, and Roberto Donadoni with Italy, football doesn't work that way—just because a manager achieves relative success at a small club doesn't mean this success will simply be multiplied by the caliber of players now available to him by going to a bigger team.
Beyond football, all great strategists from Sun Tzu to Machiavelli to Douglas MacArthur have different opinions on exactly how to achieve success with their troops, but they all agree on one key element: the troops have to believe that the leader can bring success. If your players want to play for you, success will invariably follow.
This is where Hodgson, Villas-Boas, and so many other day-time to prime-time managers failed. 
In Villas-Boas's case, Chelsea's players clearly saw him as a peer at best, and at worst, an inferior entity. Maybe this was because he was practically the same age as Drogba, Lampard, and Anelka. Maybe this was because, having worked as a lower-level coach at Chelsea earlier in his career, the players could never re-perceive him as anything else. Maybe this was because, as one of his predecessors so eloquently put it, trying to revolutionise Chelsea's style of play is like 'trying to make an omelette with the wrong type of eggs.'
Whatever the reason, Chelsea's players clearly did not look up to him, which meant that when he tried to impose a disciplinarian structure at the club, the results were laughable. Chelsea's established players clearly lost respect for him, and their performances genuinely suggested that they could not be bothered.
Roy Hodgson may have had the experience, but never at a club like Liverpool. The closest he came was a fairly vanilla spell at Inter, who were at the time a cup team at best. Most likely, his definitive role in the minds of Liverpool's players was that of Fulham manager, and he was not given the time to shake this reputation. Liverpool's players, who had been used to more cosmopolitan, big-name managers such as Houllier and Benitez, undoubtedly saw Hodgson as a downgrade. While Benitez had won La Liga, the UEFA cup and the Champions League, Hodgson's crowning achievements were two runner's-up medals in Europe's second-tier competition. How could they possibly motivate themselves to believe that Hodgson could succeed where Benitez failed?
Of course, this is not to say that a manager cannot make such a leap without achieving moderate success, but certain conditions must exist for this to occur, and they will not exist with Roberto Martinez at Liverpool.
Firstly, a manager can make the jump if he is willing to acknowledge that there are people at the club more influential and more in control than he is. This is evident with Roberto Di Matteo, and Avram Grant before him. Both these managers were tasked with steadying the ship and simply letting the established stars like Lampard and Terry exert as much influence as they like as they took a more low-key role. 
This can be successful—I doubt that Di Matteo is actually more knowledgeable as a manager than Villas-Boas, who was sensational at Porto and was a protege of Bobby Robson and Jose Mourinho. However, the players respect him more and are more happy to play for him. The resultant success Di Matteo has enjoyed suggests that having the changing room behind you is far, far, far, far more important that any technical managerial acumen.
However, Martinez has always had total control and autonomy, both at Swansea and Wigan. The team has always played his way, and no player had more influence than him at the club. This will never happen at Liverpool—Steven Gerrard and Jamie Carragher will definitely be preferred to Martinez on any matters they disagree on, similar to Raul at Real Madrid. Coincidentally, Jose Mourinho's first request at Madrid was to sell Raul, as he knew the perils of having a more influential person in the dressing room. 
A second way in which such an appointment can work is if the manager is given plenty of time to build a team. A manager will always have the full respect of players he brought to the club, just look at Wenger, Pardew and Ferguson. However, does Liverpool's next manager really have the time to do this? How many 8th-place finishes will the fans and owners really tolerate while a new team in being built? Most likely, zero.
Therefore, in spite of Martinez's undeniable ability as a manager, he is just not ready to take the reigns at Liverpool. Like all good managers, he must do more to ensure that the players see him as someone who can bring them immediate success. Right now, I don't expect them to see him as anything more than Wigan's young manager.
Twitter recently launched, follow me @EmanNepOfficial