Notre Dame Football: Which Fighting Irish Will Replace Michael Floyd
May 16, 2012

Jonathan Daniel/Getty Images
Replacing Michael Floyd's production will be among the biggest challenges that Notre Dame faces coming into the 2012 season.
The Fighting Irish may not know who will be taking the snaps come fall, but they will sorely miss the uber-talented Floyd either way. Floyd certainly helped Tommy Rees in 2011, as he caught 100 passes for over 1,000 yards and nine touchdowns and emerged as one of college football's top receivers.
Floyd went on to become a first-round selection in the 2012 NFL draft and leaves a huge hole in the Notre Dame offense. While it's unlikely that one player will be able to step up and fill his role, the Fighting Irish still can take this opportunity to become a more diversified offense.
These are the offensive weapons that will have to step up to make Notre Dame's offense dynamic.
Tyler Eifert
Eifert may not play wide receiver, but he is one of the very best tight ends in the country and played a large role in the offense last season.
Eifert's combination of size and athleticism makes him a great threat to work the seam and present mismatches with linebackers who try to cover him. The 6'6" 250-pound tight end could end up being a first-round draft selection in the 2013 draft.
Eifert had good numbers in 2011 with 63 receptions for 803 yards and five touchdowns. With Floyd gone, Eifert should see a big increase in red-zone looks as he is great at using his size to shield defenders away from the ball and could double his touchdowns from last season.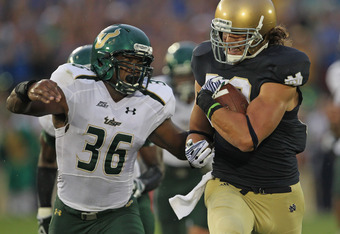 Jonathan Daniel/Getty Images
If Notre Dame is going to replace Floyd, Eifert will need to emerge as the team's most reliable threat in the passing game. Consistency from him would be a huge plus for the Irish.
Riddick has been a name that has been familiar with Irish fans as he has had some touches in his three years at Notre Dame.
In 2012, he'll be called upon to be a major cog in this offense.
Riddick, who is built like a running back, could spend time at either running back or wide receiver this season. Either way he will be called upon for his ability to make plays. At 5'11" and 198 pounds, Riddick is shifty in the open field and has good enough hands to be a reliable target.
His inconsistency over the years can be attributed to a lack of touches, but he should be featured prominently for the Irish this season. Riddick had at least one gain of over 20 yards in seven of his 10 games played last season.
With increased opportunities, he should be able to bust even more big plays in 2012.
DaVaris Daniels
A 4-star recruit out of Vernon Hills High School in Illinois, Daniels sat out the 2011 season but should make an instant impact on the offense in 2012.
After an impressive showing in the spring game, Daniels should definitely challenge for playing time at receiver and could develop into a star early in his career. Brian Kelly is certainly high on the talented prospect, telling NBC Sports that Daniels has more physical ability than Theo Riddick and Cierre Wood.
"He probably tested out at tops in the skill position, ahead of guys like Cierre Wood, ahead of guys like Theo Riddick... His numbers are off the charts in terms of vertical jump. He tested comparable to a number of the wide receivers at the NFL combine. He's got great numbers."
That's high praise coming from Kelly, and it's obvious that he's excited about what Daniels can bring to the offense. If he can come close to living up to the hype, he will be a contributor right away and may have Irish fans forgetting all about Michael Floyd.