San Francisco Giants Should Yank Angel Pagan out of Center Field
May 16, 2012

Thearon W. Henderson/Getty Images
OK, since everyone has been accusing me of being so negative, I'll start with the positive about tonight's game.
Tim Lincecum looked like his old self again tonight. Despite the loss and his giving up four runs, this may have been his best start this season in terms of pure stuff.
And it was a great comeback. The Giants came back in the late innings down 4-1 to the Colorado Rockies and tied the game. Angel Pagan was a big part of both the comeback tonight and unfortunately the loss.
Pagan had three hits and continues his torrid hitting. That's not the problem. His center-field defense is.
Yesterday, Pagan went a rare game without making a defensive mistake that cost his team dearly.
Tonight, the Giants weren't so lucky.
In the sixth inning with the score tied at one, Rockies shortstop Troy Tulowitzki hit a sinking line drive in front of Pagan. Instead of letting it bounce for a base hit, like he should have, Pagan went for a diving catch.
The ball got by him and went all the way to the fence, as Tulo limped into third. The play was scored a single and a two-base error and rightfully so. If Tulo were healthy, he would have probably come all the way around to score.
Later in the inning with two outs and the slow-footed Todd Helton at third, Jordan Pacheco hit a shallow fly ball to Pagan. Pagan fielded it and made a weak throw up the line to allow Helton to score easily.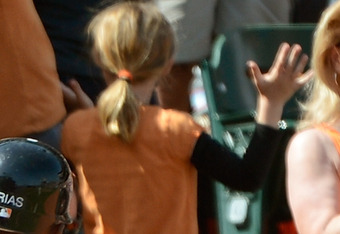 Thearon W. Henderson/Getty Images
Pagan has already lost his leadoff role to Gregor Blanco, who has been nothing short of sensational there. Blanco is a natural leadoff hitter. He is patient, draws walks and forces mistakes by the opposition with his tremendous speed.
It took Bruce Bochy almost a month and a half to realize that Blanco needed to play and bat leadoff. He's the only true leadoff hitter on the entire roster. It was evident to me in spring training, watching Blanco and watching Pagan that Blanco needed to play and bat leadoff.
I said it to everyone who wanted to listen, even before Blanco made the team. He was doing all the things he's doing now in Arizona.
I also told everyone that Blanco should be the team's starting center fielder, because of his great speed, range, instincts and good throwing arm.
The question is, how long will it take Bochy to once again see what's painfully obvious to everyone else who watches the games now or to anyone who saw the Blanco and Pagan play in Arizona. Blanco was catching everything and Pagan wasn't. He made many misplays day after day. That hasn't changed in the regular season.
Tonight, Blanco made a sensational play that temporarily saved the game. He should take those talents to the spot where the best defensive outfielder should play, center field. Then Pagan should go to left, where the weakest defensive outfielder should play and Cabrera, who is also a strong defender, who is almost being wasted in left, can go to right.
If Blanco is out of the lineup (and he should rarely be sitting as he is tearing up left-handers) then the CF should be Cabrera.
The Giants wouldn't have had to come back so far from behind and very well may have won the game if it wasn't for Pagan's two gaffes. That's two runs and the Giants lost by one. You do the math.
Get Pagan out of center before he costs the Giants even more games, Bochy.
Play Pagan in left most of the time and mix in Nate Schierholtz in right, moving Cabrera to left in certain situations.
I was of the mind before that Schierholtz should start over Pagan, but Pagan's hitting and Schierholtz' lack of hitting has changed my mind a bit. But for Nate to get off the schneid, he needs to play.
Finally, this is my biggest beef with Bochy as Giants' manager. It seems to take him forever to figure out what the rest of the world can see plain as day. Granted, he has other things to worry about, but I thought the days of the Giants being concerned about how big a guy's contract is were gone. Obviously they aren't.
Look how long it took him to replace Aaron Rowand with Andres Torres. A year and a half! In spring training of 2009, Torres WAS BLANCO. And Bochy (with Brian Sabean's okay) kept playing Rowand, despite Rowand stinking the place up so bad, he was eventually released last year.
He didn't get any worse, the Giants just finally had enough. In fact, Torres didn't even break camp with the team that year and he was sensational.
And tonight's game is a classic example of Bochy's screw ups costing the Giants games. If Blanco were in center and Pagan in left, the Giants could have very well won that game.
I'm tired of Bochy costing the Giants games. A manager should be benign at worst and a good manager should win games with his strategy. Bochy is just plain below average. The San Francisco Giants and their fans deserve better.