Manchester City Transfer News: Yaya Toure Shows Perils of Mercenary Approach
May 16, 2012

Alex Livesey/Getty Images
Manchester City rode the sword of football mercenarism to the English Premier League title this season, and may soon have to fall on it if Yaya Toure gets his way.
According to Mirror Football, the Ivorian midfielder wants out of the Etihad Stadium now that City have toppled Manchester United from their perch. Dimitri Seluk, Toure's representative, said as much on Ona FM in Barcelona: "He has done all he could do at City and he needs new motivations. Toure would like a new challenge."
In what might read to some as another slap in the face, Seluk suggested that his client might actually be willing to accept less to play for Chelsea or Bayern Munich, or even for a return to Barcelona:
"He would not cost much. He has two years on his contract and in one year he could leave under the Webster ruling [which allows players to break contracts after fixed periods]. 

"Toure could sign for many big clubs, like Chelsea and Bayern [Munich]. Moreover, we would like to see Barca join the race. I have not spoken with [soon-to-be Barca coach] Tito Vilanova or [president] Sandro Rosell, but they know the situation and if they are interested there will be no problem to sit down and talk."
It's a rather shocking turn of events for City, whose EPL crown was supposed to announce their arrival among the elite clubs in football, particularly in the hearts and minds of current and prospective players.
Or is it?
Surely, City will miss the younger Toure if he does opt for a new and different challenge. He was their best and most important player, even more so over the final stretch of the season. His powerful presence in the midfield amongst a generally diminutive attack was crucial to City's creativity and control.
Conversely, his absence during the Africa Cup of Nations coincided with one of City's rough patches during the season. His departure could hurt even more. But that's the cost of doing business in the manner that Roberto Mancini and Khaldoon Al Mubarak have chosen.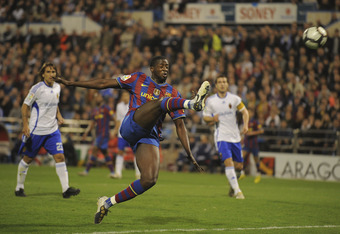 Denis Doyle/Getty Images
They've proven that you can win a title by spending exorbitant sums on some of the best players in the world—Sergio Aguero, Carlos Tevez, Joleon Lescott, Mario Balotelli, David Silva and the Toure brothers, to name a few—and hoping that the whole operation will congeal well enough and soon enough to win.
Now comes an entirely different set of questions. Can the Sky Blues sustain their success this way? Can they build a dynasty on an ever-shifting foundation of talented mercenaries? Will such a strategy translate to European football?
They needn't even look beyond their native shores to Barcelona to find a prime example of the antithesis, of a club whose long-term prosperity was constructed from the ground up.
Not when they can peek across town to Old Trafford, where Sir Alex Ferguson has combined shrewd moves on the transfer market with development and promotion from within to win 37 pieces of silverware in 26 seasons at United.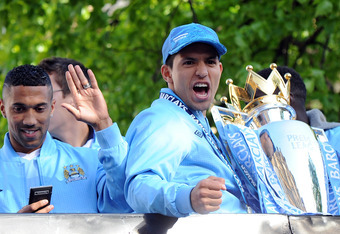 Chris Brunskill/Getty Images
City would certainly love to tack on trophies with that sort of frequency, though they don't seem particularly keen to follow the same blueprint.
Not yet, at least.
For now, if City are going to push United off the property rather than simply serve as the "noisy neighbors," they may have to cycle stars in and out with greater frequency. In essence then, losing a player like Yaya Toure could simply be the cost of doing business in the style that City have chosen.
But if the benefits include titles—and access to even more world-class footballers as a result—then the cost will be well worth it.