2012 NBA Playoffs: How the Los Angeles Lakers Can Bounce Back from Game 1 Loss
May 15, 2012

Brett Deering/Getty Images
Laker fans just had a very bad Monday night. Despite a strong start, the Lakers quickly fell prey to Oklahoma City's high powered offense, eventually getting beat down to the tune of a 119-90 score.
Many LA fans have already written off the series as a loss, hoping for better luck next year. Here are some reasons why we might see the purple and gold rebound in the next few games.
Adjustments on the Road
OKC's home crowd is boisterous and belligerent; it is a nightmare for opposing teams. Combine that with the fact that the Lakers have been abysmal on the road this year and there seems to be very little hope.
There is one thing to keep in mind; however. The Lakers are a veteran team. This has been a knock against them all season, but now this factor plays to their advantage. The Thunder are primarily a team based on youthful athleticism. When it comes to playoff experience and the mentality behind championship basketball, Kobe and Co. clearly have a step up.
If the Lakers can win their three home games, resiliency on the road will come later on in the series.
Better Defense
About 1/3rd of the way through game 1, Mike Brown had the Lakers drop into a 3-2 zone to try and stop the jump shot machine that is Russell Westbrook. Unfortunately, this scheme promptly got shredded to pieces, and the Laker defense for the rest of the game was simply abhorred.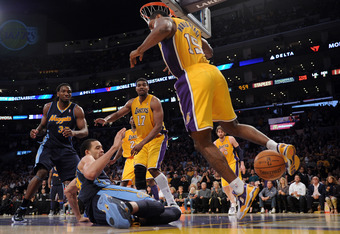 Harry How/Getty Images
After that performance, expect the Lakers to mentally step it up. Professional basketball players who are mentally astute do not give up the pick and roll as much as the Lakers did last night.
Andrew Bynum and Pau Gasol will be called to step up on the rotations, and Kobe will have one assignment: stop Westbrook. If Kobe plays shut down defense, the Thunder pick and roll effectively loses efficiency. This will lead to less open jump shots and closing of the lane.
Sessions will Rise
Ramon Sessions had a meager two points and three assists in Game 1. For a starting point guard, this is unacceptable. Although he worked the ball into Bynum well, Sessions did not have the command of the offense that we usually see. This lead to Steve Blake seeing more minutes, which almost always leads to disaster (game seven of last series notwithstanding).
If Sessions runs the floor and controls fast break tempo as well as ball distribution, offense will come quick and easy to the Lakers.