Texas Rangers: Are They in One of Baseball's Most Underappreciated Runs?
May 15, 2012

Rick Yeatts/Getty Images
Since achieving playoff relevancy by winning their first playoff series in 2010—and riding that success all the way to back-to-back World Series appearances—the Texas Rangers are in the throes of the best sports run Texas has seen since the Dallas Cowboys won three Super Bowls in four years back in the early 1990s.
Sometimes you have to take a step back and remember that, man, this is the Texas Rangers that are selling out games on Mondays in May against the Kansas City Royals. 
How is this the same franchise I grew up loving that needed 24 years to make its first postseason berth and another 14 years after that to win its first playoff series? 
Take my word for it: The Texas Rangers are clearly appreciated by their rabid fanbase in Texas—especially the Dallas-Fort Worth area. I've never in my life seen so many people sporting my favorite team's duds as I have these last several years.     
The Texas Rangers are in the midst of a historic run—not just in their franchise's history, but in Major League Baseball History as well. How many teams have been good enough to win back-to-back pennants and continue to improve from one year to the next?
With all of the Rangers' recent success, why is it that some fans still feel their team is underappreciated by the media?   
A lack of bona fide star power
I don't think it's a stretch to say that if the New York Yankees or Los Angeles Dodgers had done exactly what the Rangers have done the previous two seasons, it would be shoved down our throats so deep it would give us shin splints.
One of the main reasons for this phenomenon is just the difference in market size. The Dallas-Fort Worth media market is a considerable size, but pales in comparison to that of New York or Los Angeles.
The fault doesn't solely exist there, though. It also has to do with the Rangers' prior lack of a bona fide ace. Baseball is a business, and a team's ace is a built-in celebrity endorsement that's a perfect fit to push the product.
The Yankees have C.C. Sabathia. The Dodgers, of course, have Clayton Kershaw—ironically enough, a Texan. However, it's not like the Rangers have a bunch of unknowns on their roster; they have plenty of studs, too.  
Josh Hamilton and Yu Darvish provide enough star power to make the media stand up and notice. It's already happening. How many times have you watched the slow-motion swings of Hamilton during his four-homer game last week? Likewise, how much media attention surrounds Darvish's starts?
Even though he's only been in the bigs for a little over six weeks, Darvish's name automatically creates a buzz. You get the feeling, too, that in terms of performance, he is still just scratching the surface. And if more is in store from Yu, then the Rangers will certainly have a true ace for the first time since Nolan Ryan toed the rubber.   
Overshadowed by the Angels' crazy offseason spending
Placing the winning bid and securing the rights to negotiate with Yu Darvish—who ultimately signed a six-year, $56 million deal—would normally take first prize in the offseason sweepstakes. However, when a slugger such as Albert Pujols signs a 10-year deal for just south of a quarter of a billion dollars, then every other signing falls to the wayside.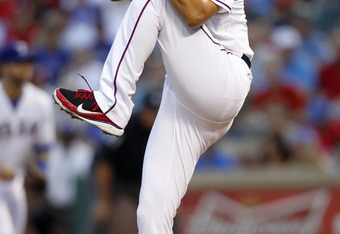 Layne Murdoch/Getty Images
The Pujols signing made the baseball hype machine kick into overdrive—and to a lesser degree, the C.J. Wilson signing took precedence as well. It seemed as though the Angels had not only stolen the Rangers' best pitcher, but had also cash-whipped their way back into AL West relevancy thanks to the Pujols deal.
Funny how quickly perceptions can change. 
All it took was a combination of Pujols' anemic start and the Angels' inability to win consistently to flip the media circus back onto the side of the Rangers. Currently, the Angels are sadly strumming second fiddle to the Texas Rangers.
For proof, you need look no further than last Sunday's ESPN coverage of the Angels versus the Rangers. I had to watch it twice to pick up on all of the tongue-bathing the broadcast team lathered the Rangers with. It was unbelievable! It was also long overdue.   
Look, I'm not so sure the Texas Rangers' recent run is underappreciated. Does it really matter if it is, though? I don't think it should. The best way to change negative notions of the past is to produce positively in the present, and the Texas Rangers are certainly doing that.  
They're clearly baseball's best team right now, and with their stacked minor-league farm system, the Rangers will be relevant for years to come. 
All that should really matter is the "now." And right now, our beloved Texas Rangers are getting plenty of media attention, and fans are flocking to Rangers Ballpark in Arlington in record numbers.
The Texas Rangers might be underappreciated, but here's the deal: They're a great team that is continually finding ways to not just improve, but to keep on winning. Underappreciated or not, isn't that all that really matters?