Arsenal: Arsene Wenger Needs to Buy a Right-Back, Not Yann M'Vila: Here's Why
May 15, 2012

Julian Finney/Getty Images
Carl Jenkinson's approach to defense might best be defined euphemistically.
It is an earnest style. Very, very earnest.
It's probably a bit cruel to judge the former Charlton man so harshly—he is only 20 and playing in his first season of Premier League football—but the vestigial imprint of that sending off at Old Trafford in late August still resonates with Jenkinson.
He simply looks unable to cope with the pace of the Premier League at times. We saw it against Manchester United back in the early stages of the season, and we saw it on Sunday against West Bromwich Albion at the Hawthorns.
He has made strides in his offensive capabilities—his crossing against Albion on Sunday was quite good, and while he will never rival Dani Alves for trickery on the right flank, he doesn't need to in order to be effective.
As Bacary Sagna has shown us so often, sometimes simple works just fine when it comes to crossing and getting forward.
Where Jenkinson had me pulling my hair out was in his defensive work, if you could even call it that.
While he had his good moments—a cursory glance at Arsenal's defensive positioning in the first half caused him to incorporate a successful offsides trap (Thomas Vermaelen pointed to Jenkinson to applaud him for that bit of quick thinking)—they were few and far between.
Jenkinson was shocking in his one-on-one battles—most notably against Marc Antoine-Fortune in the second half.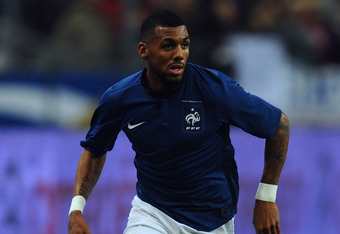 Mike Hewitt/Getty Images
To the Baggies forward's credit, he did not go down under contact, although Jenkinson gave him about five opportunities in one sequence to earn a free kick on the edge of the penalty area, and then a slew of options to go down and draw a penalty.
Considering that Arsenal were nursing a narrow 3-2 lead at that stage in the match, it was an absolutely shocking bit of play from Jenkinson. 
He looked off the pace, and completely unable to handle the guile—and Albion aren't exactly known for having many wizards in the attacking department—of those Baggies forwards. It is not too much of a stretch to say that Jenkinson could have cost Arsenal very dearly, indeed.
In a match with so many implications for next season—top-three finish, the promise of automatic qualification to the Champions League—that is inexcusable.
Not inexcusable from Jenkinson, mind you. I'm sure he was giving his all. But he should never have been out on the pitch in a game of that magnitude.
It made us aware that Arsenal are in dire need of another veteran option at the right-back position.
Outside of Bacary Sagna, who despite two terribly unlucky injuries this season has been spectacular in defense, Arsene Wenger has relied on youngsters Nico Yennaris (who had a notable substitute appearance in Arsenal's FA Cup match against Leeds United back in January) and Francis Coquelin, who, while impressive in his displays at the position, is far more effective in central midfield, his first-choice position.
Jenkinson should not be the first-choice backup to Sagna. He simply does not have the experience to be relied upon.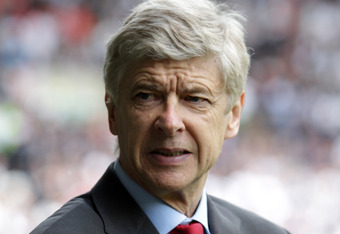 Ross Kinnaird/Getty Images
Therefore, why is Wenger pursuing yet another central midfielder in Stade Rennais youngster Yann M'Vila, when there is a glaring deficiency in another area of the field?
Besides Alex Song, who played most of the season along with the three most recent ones in the defensive holding role, there are any number of good options already on the Arsenal books who can fill that position.
From Coquelin to the injured Emmanuel Frimpong, Arsenal have two very good understudies to Song. Why stunt their development even further?
If Wenger decides to bring in M'Vila and use Song as a more attack-minded center mid (as we saw him do on Sunday), that impinges, then, upon the playing time of Mikel Arteta—who was one of the best Gunners on the whole season—not to mention Jack Wilshere, who we should have every expectation of seeing back in a major contributing role in 2012-13.
It speaks to the absurd amount of central-minded players at the club that even with the sales of Cesc Fabregas and Samir Nasri last summer, Wenger still has far too many options to choose from.
If you noticed, I have not even mentioned Tomas Rosicky or Aaron Ramsey—or even Andrei Arshavin, currently on loan with Zenit St. Petersburg.
Another midfielder is not needed at this time—especially at M'Vila's asking price.
What is an absolute necessity—as Sagna will likely start next season still recovering from his latest leg break—is an experienced option at the right-back position.
If the Gunners are as serious as they appear to be about chasing the 2012-13 Premier League title, they will need a stout back four—not the shaky model that allowed five goals in the final two matches of the season. (Arsenal tied Norwich City 3-3 at the Emirates on May 5.)
On Wenger to make it happen.
If he is indeed looking for experience over potential in the transfer market this summer (see: 26-year-old—he'll be 27 by the time the season kicks off—and 95-time senior cap winner for Germany Lukas Podolski, who was signed late last month), he need look no further than Jenkinson to realize he has to make another deal.