NHL Playoffs 2012: Washington Capitals Are Where They Are Because of Injuries
May 10, 2012

Bruce Bennett/Getty Images
After the 2-1 win last night, the seventh seeded Washington Capitals have forced a game seven against the top seeded New York Rangers in round two of the Stanley Cup Playoffs.
Despite the inspirational story of how the Capitals have gotten here, we must first look at why they finished seventh in the first place.  
For years, the Capitals have been one of most dominant regular season teams, handily leading the Southeast division. 
After getting swept by the Tampa Bay Lightning in the second round last year, Washington went on to acquire Joel Ward and Tomas Vokoun in the offseason. Because of those additions, it was expected that the Caps would once again be a top contender this year.  
Unfortunately, a series of injuries to Mike Green limited him to just 22 regular season games, and a serious concussion halfway through the year removed Nicklas Backstrom for the remainder. With those injuries, the high expectations for the season quickly shifted to a desperate fight to reach the playoffs; resulting in a seventh place finish.
As the regular season came to an end, the Caps were faced with two more significant injuries (without these two they would be on the golf course right now). These two injuries were the ones to Tomas Vokoun and Michal Neuvirth—the injuries that forced the team to start the playoffs with their third string goalie, Braden Holtby. 
The young Holtby dominated the first round against the Boston Bruins. After a hard-fought seven-game series with both Mike Green and Nicklas Backstrom back in the lineup, and an overtime goal by Joel Ward, the Capitals advanced to the second round.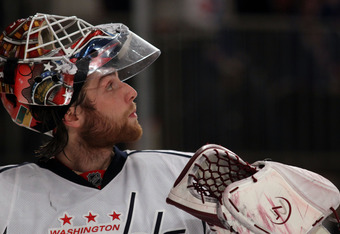 Bruce Bennett/Getty Images
Now, with Green, Backstrom and Holtby all at the top of their game, the "underdog" Washington Capitals have an opportunity to knock out the best team in the East.  
The deciding game is slated for a 7:30PM ET start on Saturday, May 12th. Because of the players listed in this article, I am predicting a Capitals win. Braden Holtby is the real deal; with more composure and consistency than we've seen from a goaltender his age in years. In addition, each game further into the playoffs, Backstrom and Green get that much closer to the dominant stars we know they can be. In game six, all three, along with captain Alex Ovechkin were game-changers, and I wouldn't expect anything less on Saturday.  
If they do lose, however, it's not a season to be forgotten. This team battled through bad injuries to key players and a coaching change to make the playoffs. In which they started their third string goalie and completely altered their game style to knock out the Cup Champions. They also went on to bring the No. 1 seeded Rangers to the brink of elimination. 
This season, win or loss, has been a true roller coaster ride making it one of the most admirable performances we've seen in years.