NBA Playoffs 2012: With Bynum, Bryant and Gasol, You Can't Discount the Lakers
May 9, 2012

Doug Pensinger/Getty Images
The Los Angeles Lakers are the sleeping dragon of the West. Actually, the entire West is a sleeping dragon. Despite having been virtually called in advance for the Oklahoma City Thunder, like the Miami Heat in the East, there are plenty of teams kicking around the Left Coast that have a thing or two to say about their seemingly preordained trip to the Finals. 
The San Antonio Spurs are, by the numbers, basketball's best team. Nobody wants to play the Los Angeles Clippers with Chris Paul playing as he has been. Nobody wants to play the Memphis Grizzlies because—a certain epic collapse notwithstanding—they are the team that refuses to die, and lets you know it on every play. But it's the Lakers who should really be giving OKC fans the shivers. 
Granted, the Lakers are now only up 3-2 against a feisty Denver Nuggets team that is somewhere between the "We Believe" Warriors and the endless blue-collar ranks of the Grizz. In short, they're a team that gets labeled "dangerous" as a polite way of calling them entertaining but ultimately irrelevant. 
However, even if the Lakers have been unable to close out a series that a prospective champ would have taken care of days ago, they are still displaying many of the signs of a team suited for a deep run. And hey, haven't overly long playoff series always been a Lakers tradition? 
Despite Kobe Bryant's near-scoring title and outside shot at the MVP award, over the course of the season we have seen this become Andrew Bynum's team—or at least a team where its Hall of Fame-bound superstar is fine with the young center getting his touches. And with good reason.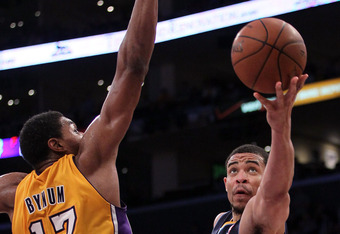 Jeff Gross/Getty Images
Bynum has probably surpassed Dwight Howard as the most valuable center in the league. He may not quite have Howard's shot-blocking insanity at his disposal, but he takes up space and intimidates like no one else in the league at both ends of the court. He's enormous, athletic and skilled. There's a scarcity of centers these days, and it remains to be seen whether they are dinosaurs or the ultimate trump card.
Bynum has looked this way in the playoffs despite somehow ushering in a long overdue (or logically impossible) coming-out party of Nuggets center JaVale McGee. His all-out dominance in the post—remember, he's been consistently hobbled during the Lakers playoff appearances, which makes his legacy either that much more impressive or that much more confounding—has reached a point where Pau Gasol is operating from the high post, allowing the "skilled big man" side of his game to take over and the useless criticisms of him as "soft" to mean nothing. 
And then there's Kobe—or at least an older version of himself. Sometimes wiser, sometimes still driven to take over games because he trusts his own brilliance above all else. 
What's been truly remarkable to watch in the playoffs is how he's rallied behind Bynum's cause like never before while still finding a way to score an ungodly number of points and draw attention from defenses that would love to focus their attention on the monster in the paint. 
It's short-sighted to suggest that the Lakers have a serious shot at a title solely on the strength of three players, especially when OKC, San Antonio, the Clippers and the Grizzlies are all so deep. Metta World Peace has yet to return. He can help immensely on defense against, say, a Kevin Durant, but is also prone to disruption and bone-headed plays.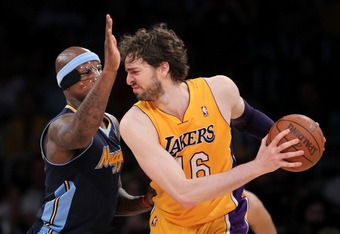 Jeff Gross/Getty Images
Ramon Sessions is a huge upgrade over Derek Fisher in terms of offensive ability and flat-out playmaking, but he can't guard Russell Westbrook any better than Fisher could. Mike Brown pulled this team together, which is quite different than negotiating the deadly straits or making the quick decisions that decide playoff fates. 
At the end of the day, though, the Lakers have a center, a shooting guard and an all-purpose power forward in Gasol playing as well—and doing as much—as anyone in the league. Plus, they have been here before. As much as LeBron James wants to get that first ring and Kevin Durant's narrative demands he get one this season, the Lakers are vets who aren't playing old. And much like in the past, these long series will be important tests for them. 
The Nuggets are making them contend with a young, up-tempo team. Maybe it's not proving as easy as expected, but it's the ideal test case. They aren't counting on anything but are still making adjustments for the long haul. With these three players—and that mindset—it's hard to not be a little scared.