Harrison Twins: Why Maryland May Have the Edge over Kentucky for Package Deal
May 6, 2012

Twins Andrew and Aaron Harrison are the two best guards in the 2013 college basketball recruiting class.
And they come as a package deal.
Now, one top-five recruit can typically change an entire program.
But, two?
Twice as nice.
Just look what Anthony Davis and Michael Kidd-Gilchrist, two top-five recruits, did for Kentucky last season, bringing in UK's first National Championship in over a decade.
Andrew and Aaron attend and play basketball for Travis High School in Richmond, Texas. They both measure out at 6'5'' and weigh just over 200 pounds. Andrew plays point guard, while Aaron is a shooting guard.
They have narrowed their list of possible schools to four. The list contains Kentucky, Maryland, Baylor and Villanova.
Andrew Harrison Sr., their father, stated their biggest strengths as basketball players:
"Their ball-handling ability and ability to get to the hoop. If they have a smaller guard, they can overpower him. If they have a bigger guard, they can go around him."
The boys from Texas can enter a program and immediately institute a new culture, swagger and style. They can produce right away with scoring and energy. Most importantly, the Harrison twins know how to win.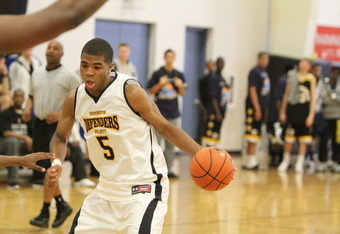 Travis High School, led by Andrew and Aaron, finished 36-4 in 2011-12. In conference, the team finished undefeated, and completed the season ranked third in the basketball-rich state of Texas. Nationally, the final ranking was eight.
The brotherly duo's most unique asset is their chemistry between each other.
Since they began playing basketball, the Harrisons have always been playing side-by-side. They know each other's strengths and weaknesses, and can sense where the other will be before he even gets there.
Almost any top tier recruit has aspirations to make the NBA as soon as possible. One-and-done is the goal for anyone as highly-touted as the twins. 
Of course Kentucky is the one-and-done powerhouse of the entire nation. Just over the past few seasons, the Wildcats have produced one-year wonders John Wall, DeMarcus Cousins, Daniel Orton, Eric Bledsoe, Brandon Knight, Enes Kanter, Michael Kidd-Gilchrist, Marquis Teague and Anthony Davis.
So, why in the world would Andrew and Aaron Harrison not take their talents to Lexington?
The answer?
Shaquille Cleare.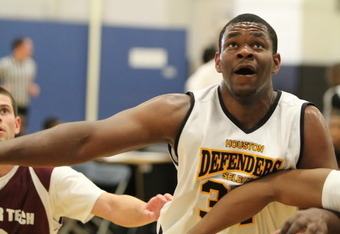 In case you don't already know, Shaquille Cleare is the University of Maryland's top 2012 recruit. He is a 6'9'', burly center who is a force in the lane.
Cleare is Maryland Coach Mark Turgeon's first major commit at Maryland. After Maryland got Virginia combo guard Seth Allen, Cleare joined the Terps and paved the way for Turgeon to put together the nation's 16th best recruiting class, per ESPNU.
His presence is the major reason why Turgeon, and his staff of Bino Ranson, Scott Spinelli and Dalonte Hill were able to rack in top recruits such as Jake Layman from Massachusetts, Charles Mitchell from Georgia and Sam Cassell Jr. from Baltimore, Md.
Still, why would one 4-star recruit lure in the best package deal of recruits in recent memory?
Cleare, also from the Houston area, plays on the same AAU team, the Houston Defenders, as Andrew and Aaron.
To make matters more positive for Terp Nation, Cleare and the Harrisons are extremely close friends.
At the Pitt Jam Fest last month, Aaron had this to say:
"Shaq is one of my best friends in the world, so of course that's a factor."
We have all seen the impact that players who have already committed to a school can have on the complete recruiting class. UCLA commit PG Kyle Anderson recruited top SF Shabazz Muhammad to Westwood. The duo of Anderson and Muhammad brought in one of the last remaining 5-star recruits to Los Angeles in C Tony Parker.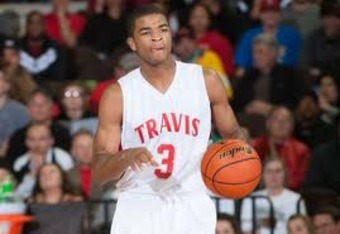 Archie Goodwin and Alex Poythress, Kentucky's top two recruits, helped lure in top 2012 player Nerlens Noel to Lexington. Isaiah Austin of Baylor did the same with PF Ricardo Gathers.
Obviously, a player in Cleare's position can have a serious impact on the destination of top high school players.
Aaron Harrison, Sr. stated about the relationship between his sons and Shaq,
"Maryland has always been on the list. Shaq is their friend, he's been recruiting them hard." 
The opportunity for Andrew and Aaron to reunite with their ex-AAU teammate will be so tempting for the twins, making College Park a true favorite for the landing spot of the Harrisons.
While that possibility may seem like enough for Coach Turgeon to bring in the two talented guards, there are secondary reasons why Maryland has an edge over Kentucky, Baylor and Villanova in this race.
Harrison Sr. used to live in Baltimore, Md. He knows the AAU circuit in the DC-Maryland-Virginia area, and has strong ties to the area's major universities. In this case, the university of note is Maryland.
His parents, and Andrew and Aaron's grandparents, still live in Baltimore. The boys visit their grandparents frequently, and are comfortable with the Maryland area.
In addition, with the signing of Cleare, Turgeon has shown he can successfully recruit the state of Texas.
Before succeeding Gary Williams at Maryland, Turgeon used to be the coach at Texas A&M, where he strung together four consecutive 24-win seasons.
He began recruiting the twins while he was at Texas A&M, and has had a strong connection to them for many years now. 
Now Turgeon is at Maryland, where the Harrisons have family and basketball relationships.
While neither Aaron, Andrew, nor Aaron Sr. have given any hints to where college basketball's best two-for-one value deal will be heading, one thing is clear.
Maryland is a match made in heaven, and the Terps definitely have the edge over Kentucky.