NBA Playoffs 2012: Why New York Knicks Must Trade Amar'e Stoudemire in Offseason
May 5, 2012

Marc Serota/Getty Images
This New York Knicks' 2011-12 season has been a roller-coaster ride.
Never before have we seen the type of ebbs and flows the 2011-12 campaign produced, and it ironically transpired in a shortened, compressed 66-game schedule.
Unreasonable expectations dissipated quickly as it became quite apparent the Knicks had a number of pieces to a puzzle that simply did not fit.
In fact, the Knicks would have missed the playoffs entirely if it weren't for the midseason heroics of the exciting and endearing Jeremy Lin.
Yet amidst all the chaos of Linsanity, one fact has remained constant—Amar'e Stoudemire hasn't been the same explosive Amar'e Stoudemire since he injured his back while performing an ill-advised trick dunk in a pregame warm-up of Game 2 of the 2011 playoff series against the Boston Celtics.
In fact, he may not have been the same player since Carmelo Anthony was inserted into the starting lineup following the blockbuster trade last season.
To be fair, there are several pieces of this Knicks roster that are discombobulated. However Stoudemire is the primary culprit and the Knicks' 14-6 record without him validates this theory.
Let's delve into why this is.
Amar'e Stoudemire has lost a step. He is not explosive, can't finish at the basket, doesn't have the same lift on his jump shot and continues to play atrocious defense in every aspect—help defending, closing out and rebounding.
It is crystal clear he has not been the same player he was the last season. 
The reason is not only the back injury (which could have been avoided), not only the inane decision to add 20 pounds of muscle in the offseason (which could have been avoided), but also Mike D'Antoni's decision to run his star player into the ground in the early stages of last season.
Remember when Amar'e averaged more than 30 points a game for two weeks in a row?
Remember when there were MVP chants echoing throughout the Garden?
Well his current ineffectiveness is the residual effect of D'Antoni's system. It's unbelievable. Just when you thought they had gotten rid of the seven-seconds-or-less offense for good, Mike D's system rears its ugly head again.
It's like a cockroach that just won't die.
There are other reasons he should be traded, in addition to the wear-and-tear he suffered from last season.
I'm tired of hearing the excuses of not having a full training camp to prepare and mesh as a team. Anthony and Stoudemire have had more than enough time to figure this out, but they haven't.
Stoudemire can blame Knicks management when they should have traded for a part that fit, a guy that can run the pick-and-roll and a guy that plays the point.
Well, there was no one available that would have been ideal, but…wait! Yes, there was! Deron FREAKING Williams! Another blunder by Knicks management, but this article is about Stoudemire, not about the poor decision to trade for Carmelo, so we'll continue.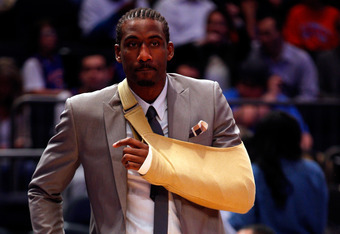 Jeff Zelevansky/Getty Images
Carmelo Anthony clearly is more offensively efficient at the power forward position, and he has enough wherewithal to play adequate, sometimes great defense against guys who don't have the athleticism most 3's have.
The Knicks are at their best when Carmelo Anthony is at his best.
He has to be the most offensively efficient and all-around best player on the floor. Stoudemire's presence severely encumbers Anthony's offensive potency because he pushes Anthony to a position he does not thrive in and clogs a space from which Anthony likes to score.
Anthony likes being THE guy, and Stoudemire doesn't allow him this luxury. Unfortunately, Stoudemire simply does not possess the skills now, and I'm not sure he ever did, to play championship basketball.
He is a one-dimensional player (and yes, Carmelo is too sometimes) who is unable to fit into a defensive system. Can he ever win a championship in a different set of circumstances? Of course he can, but not as the best or second-best player on the team.
At this point in his career, he can be extremely successful as a sixth man, but does not have the ability to be a reliable starter on this Knicks team as it is currently constituted and certainly not on a championship team that plays stout defense.
Finally, the last problem is the baggage that he brings.
Yes, you have to commend him for his courageous decision to be the first free agent to sign in New York and stimulate a reactionary interest from stars who would like to play in the Big Apple, but he has now hurt the team two years in a row when they needed him the most—in the playoffs.
This latest incident of slicing his hand in a state of rage and frustration following a Game 2 loss in Miami was egregious.
Self-inflicted injuries have caused the Knicks to reassemble their lineup, revamp their strategy and reassess their offseason decisions after a sweep at the hands of Boston last year and what is likely to be a sweep tomorrow afternoon against Miami.
It really is a shame, but the Knicks must say goodbye to the former crowd favorite if they'd like to move closer to that elusive championship. Actually, let's think smaller here…that elusive playoff win.
Most NBA executives are speculating that he is untradeable because of the massive contract (three years, $64 million owed), diminishing skill set and uninsured knees.
Most executives would be right, but all it takes is one team to bite. One team to decide this guy is a marketable enough star and would be a smart business investment, even if he doesn't provide a lot of basketball value.
If the Knicks find that most GMs would rather put out a campfire with their face than trade for an aging, overpaid head-case, then they must get creative.
How, you say?
Attach Linsanity to a deal and ship them to a team in need of a point guard. The Knicks would have to sign Steve Nash in this scenario, but eliminating Stoudemire would be addition by subtraction. Adding Lin to sweeten the pot would most likely bring back a capable player or two that may fill the scoring void.
Although the Knicks must be scrupulous about this process, they must ensure they do not continue a trend that has been occurring since 2001, the year they last won a playoff game—and that is acquiring players that do not fit their system or gel with the current roster.
Picking the next one-dimensional, overpaid and overrated star out of a hat is not a strategy I would advise. But either way, they must go to great lengths to eliminate Stoudemire from the lineup if they want any chance to compete next season.