Mariano Rivera Injury: Why Red Sox Fans Will Miss the New York Yankees Great
May 4, 2012

Jim Rogash/Getty Images
With Joe Girardi confirming to ESPNNew York the reports that the knee injury Mariano Rivera suffered on Thursday while shagging fly balls is a torn ACL, we may have seen the last of the Yankees closer. If this is the end for Rivera, who is, by any measurable statistic, the greatest of all time, it is a truly unfortunate finish to a brilliant career.
Even though revisionist history has made some think that they dominate him, the Red Sox and their fans should not miss seeing Rivera the pitcher taking the mound anymore. Even when hitters knew it was coming, the right-hander's cutter sawed off the Sox hitters' bats time and again, ending potential rallies and rendering even the team's best hitters useless.
Rivera's blown save at Fenway Park in Game 4 of the 2004 ALCS has likely distorted fans' memories of Rivera's amazing success. He dominated Boston hitters in posting a career 2.80 ERA against the Sox, and his 12 wins are more than he posted against any other team.
Although from a purely on-field perspective fans will be happy to see Rivera finished, ultimately his injury and likely retirement mark a very sad day in this historic rivalry.
Along with Derek Jeter, Rivera represented not a mortal enemy (looking at you, Roger Clemens), but a worthy adversary whom the Sox and their fans respected because of how he played the game.
Rivera played the part of on-field leader with aplomb, never showing up his opponent (even though he could have) and never taking credit when it wasn't due to him.
His quiet demeanor irked Sox fans—he proved unflappable even under the direst of circumstances—but especially towards the end of his great career he had earned their begrudging respect.
Contrary to what people like Luke Scott think, Sox fans know baseball. They appreciate greatness when they see it, and Rivera was certainly that. Particularly because the rivalry has softened in recent years, the respect Sox fans have begun to give Rivera indicates just how special a player he was.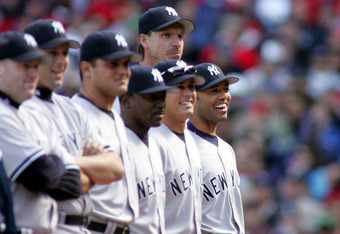 Jim McIsaac/Getty Images
Rivera also showed a thoughtfulness that made it impossible not to like him, at least a little bit. When the Sox received their championship rings prior to the home opener of the 2005 season against the Yankees, one of the most resounding ovations of the day was for Rivera.
And his blown save in Game 4 opened the door for the Sox comeback and ultimate victory.
As his teammates looked at him to see how he would respond, Rivera seemingly enjoyed the ribbing, smiling and waving to the crowd. This good-natured exchange between Rivera and the Sox fans was one that would not have been possible with any other player, and revealed the great esteem Sox fans held the Yankee closer in.
As the Sox went through a revolving door of closers from Ugueth Urbina to Byung-Hyun Kim to Keith Foulke, Rivera was always a constant. He was the standard to which all other Sox closers were held, and ultimately none apart from Jonathan Papelbon were ever worthy of comparison.
In Red Sox history both past and future, it's likely that nobody will ever compare to Rivera. His ability to stay dominant well into his late 30s and early 40s is something we may never see again. He was more than just a specialist; he was a baseball player in every sense.
The rivalry will go on and the teams will meet once again starting July 6th at Fenway. If the Yankees are leading going into the bottom of the 9th, Sox fans are going to be disappointed when they don't see No. 42 jog out to the mound.